Mortimer, Ian 1967-
Most widely held works by Ian Mortimer
The time traveler's guide to medieval England : a handbook for visitors to the fourteenth century
by
Ian Mortimer
( Book )
45 editions published between
2008
and 2017 in 4 languages and held by 2,131 WorldCat member libraries worldwide
A time machine has just transported you back to the fourteenth century. What do you see? How do you dress? Where will you stay? How do you earn a living and how much are you paid? What sort of food will you be offered by a peasant or a monk or a lord? This is not your typical look at a historical period. This radical new approach shows us that the past is not just something to be studied; it is also something to be lived. All facets of the everyday lives of serf, merchant, and aristocrat in this fascinating period are revealed, from the horrors of the plague and war to the ridiculous excesses of roasted larks and medieval haute couture.--From publisher description
The time traveler's guide to Elizabethan England
by
Ian Mortimer
( Book )
22 editions published between
2012
and 2014 in
English
and held by 1,602 WorldCat member libraries worldwide
This history explores daily life in Queen Elizabeth's England, taking us inside the homes and minds of ordinary citizens as well as luminaries of the period, including Shakespeare, Christopher Marlowe, Sir Walter Raleigh, and Sir Francis Drake. Organized as a travel guide for the time-hopping tourist, Mortimer relates in delightful (and occasionally disturbing) detail everything from the sounds and smells of sixteenth-century England to the complex and contradictory Elizabethan attitudes toward violence, class, sex, and religion
Millennium : from religion to revolution : how civilization has changed over a thousand years
by
Ian Mortimer
( Book )
4 editions published between
2016
and 2017 in
English
and held by 738 WorldCat member libraries worldwide
"History's greatest tour guide--Ian Mortimer--takes us on an eye-opening and expansive journey through the last millennium of human innovation. We are an astonishing species. Over the past millennium of plagues and exploration, revolution and scientific discovery, women's rights and technological advances, human society has changed beyond recognition. ln Millennium, bestselling historian Ian Mortimer takes the reader on a whirlwind tour of the last ten centuries of Western history. It is a journey into a past vividly brought to life--and bursting with ideas--that pits one century against another in his quest to measure which century saw the greatest change. We journey from a time when there was a fair chance of your village being burned to the ground by invaders--and dried human dung was a recommended cure for cancer--to a world in which explorers sailed into the unknown and civilizations came into conflict with each other on an epic scale. Here is a story of brilliant scientists, fearless adventurers, cold-hearted entrepreneurs, and strong-minded women--a story of discovery, invention, revolution, and cataclysmic shifts in perspective. Millennium is a journey into the past like no other. Our understanding of human development will never be the same again"--Jacket
The greatest traitor : the life of Sir Roger Mortimer, ruler of England, 1327-1330
by
Ian Mortimer
( Book )
18 editions published between
2003
and 2013 in
English
and held by 638 WorldCat member libraries worldwide
"Brutal, intelligent, passionate, profligate, imaginative, and violent, Sir Roger Mortimer was an extraordinary character. It is not surprising that the Queen lost her heart to him. Nor is it surprising that his contemporaries were terrified of him. But until now no one has appreciated the full evil genius of the man. This first biography reveals not only Mortimer's career as a feudal lord, a governor of Ireland, a rebel leader, and a dictator of England, but also the truth of what happened that night in Berkeley Castle."--Jacket
The outcasts of time
by
Ian Mortimer
( Book )
12 editions published between
2017
and 2018 in
English
and
Undetermined
and held by 563 WorldCat member libraries worldwide
December 1348. The country is in the grip of the Black Death. Brothers John and William are given an unexpected choice: either to go home and spend their last six days in their familiar world, or to search for salvation across the forthcoming centuries– living each one of their remaining days ninety-nine years after the last. They choose the future and find themselves in 1447, ignorant of almost everything going on around them. The year 1546 brings no more comfort, and 1645 challenges them in further unexpected ways. Things they have taken for granted all their lives prove to be short-lived. Can they do something to redeem themselves before the six days are up?
The time traveler's guide to Restoration Britain : a handbook for visitors to the seventeenth century: 1660-1700
by
Ian Mortimer
( Book )
7 editions published between
2017
and 2018 in
English
and held by 467 WorldCat member libraries worldwide
"If you could travel back in time, the period from 1660 to 1700 would make one of the most exciting destinations in history. It is the age of Samuel Pepys and the Great Fire of London; bawdy comedy and the libertine court of Charles II; Christopher Wren in architecture, Henry Purcell in music, and Isaac Newton in science--the English Civil Wars are over and a magnificent new era has begun. But what would it really be like to live in Restoration Britain? Where would you stay and what would you eat? What would you wear? The third volume in the series of Ian Mortimer's bestselling Time Traveler's Guides answers the crucial questions that a prospective traveler to seventeenth-century Britain would ask. How much should you pay for one of those elaborate wigs? Should you trust a physician who advises you to drink fresh cow's urine to cure your gout? Why are boys made to smoke in school? And why are you unlikely to get a fair trial in court? People's lives are changing rapidly--from a world of superstition and religious explanation to rationalism and scientific calculation. In many respects this era reflects the tipping point between the old world and the new, as fear, hardship, and eating with your fingers give way to curiosity, fine wines, and knives and forks. This unique guide to Restoration Britain encourages us to reflect on the customs and practices of daily life--while simultaneously teaching us about the seventeenth century and making us look with fresh eyes at the modern world."--Jacket
Medieval intrigue : decoding royal conspiracies
by
Ian Mortimer
( Book )
15 editions published between
2010
and 2012 in
English
and held by 329 WorldCat member libraries worldwide
Ian Mortimer examines some of the most controversial questions in medieval history, including whether Edward II was murdered, his possible later life in Italy, the weakness of the Lancastrian claim to the throne in 1399, and the origins of the idea of the royal pretender
The perfect king : the life of Edward III : father of the English nation
by
Ian Mortimer
( Book )
16 editions published between
2006
and 2014 in
English
and held by 301 WorldCat member libraries worldwide
In this first full study of his character and life, Ian Mortimer shows how Edward III personally provided the impetus for much of the drama of his fifty-year reign. Under him the feudal kingdom of England became a highly organised, sophisticated nation, without question the most important military nation in Europe. Yet under his rule England also experienced its longest period of domestic peace in the middle ages, giving rise to a massive increase of the nation's wealth through the wool trade, with huge consequences for society, art and architecture. It is to Edward that the British owe their system of parliamentary representation, the local justice system, the national flag and the English language as the 'tongue of the nation'. Nineteenth century historians painted Edward as a self-seeking, rapacious, tax-gathering conqueror. Yet as this book shows, beneath the strong warrior king was a compassionate, conscientious and often merciful man resolute yet devoted to his wife, friends and family. He emerges as a strikingly modern figure, to whom many will be able to relate the father of both the English nation and the English people
1415 : Henry V's year of glory
by
Ian Mortimer
( Book )
11 editions published between
2009
and 2014 in
English
and held by 268 WorldCat member libraries worldwide
Henry V is regarded as the great English hero. Lionised in his own day for his victory at Agincourt, his piety and his rigorous application of justice, he was elevated by Shakespeare into a champion of English nationalism for all future generations
Centuries of change : which century saw the most change and why it matters to us
by
Ian Mortimer
( Book )
7 editions published in
2014
in
English
and held by 196 WorldCat member libraries worldwide
In Centuries of Change bestselling historian Ian Mortimer takes you on a whirlwind tour of the last ten centuries of Western history. It is a journey into a past vividly brought to life and bursting with ideas, that pits one century against another in his quest to measure which century saw the greatest change. We journey from a time when there was a fair chance of your village being burnt to the ground by invaders, and dried human dung was a recommended cure for cancer, to a world in which explorers sailed into the unknown and civilisations came into conflict with each other on an epic scale. Here is a story of godly scientists, shrewd farmers, cold-hearted entrepreneurs and strong-minded women - a story of discovery, invention, revolution and cataclysmic shifts in perspective. Centuries of Change is a journey into the past like no other. Our understanding of change will never be the same again, and the lessons we learn along the way are profound ones for us all
more
fewer
Audience Level
0

1
Kids
General
Special
Audience level: 0.36 (from 0.07 for Medieval I ... to 0.92 for Il libro d ...)
Associated Subjects
Archives
Black Death
Books
Brothers
Catholics
Charles--II,--King of England,
Civilization
Civilization, Medieval
Civilization, Western
Civilization, Western--Philosophy
Diseases--Philosophy
Edward--II,--King of England,
Edward--III,--King of England,
England
England--London
Europe, Western
Future life
Gaveston, Piers,
Great Britain
Henry--IV,--King of England,
Henry--V,--King of England,
Heralds
Historiography
History
History, Modern
Intellectual life
Isabella,--Queen, consort of Edward II, King of England,
Kings and rulers
Kings and rulers--Succession
Manners and customs
Manuscripts
Man-woman relationships
Medical care
Medicine
Middle Ages
Mortality
Mortimer, Roger de,--Earl of March,
Nobility
Physicians
Political participation
Politics and government
Public health--Social aspects
Public records
Richard--II,--King of England,
Social change
Social change--Philosophy
Social conditions
Time travel
World history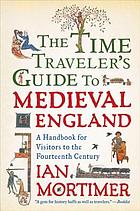 Alternative Names
Forrester, James, 1967-
Foresters, Džeimss 1967-

Forrester, James

Ian Mortimer Brits historicus

Ian Mortimer historiador británico

Ian Mortimer historien britannique

Mortimer, Ian

Mortimer, Ian, 1967-

Mortimer, Ian J. F.

Mortimer, Ian James Forrester

Mortimer, Ian James Forrester 1967-

Мортимер, Иэн

モーティマー, イアン

伊恩·莫蒂默

Languages
Covers