Cohen, Henry 1949-
Most widely held works by Henry Cohen
Freedom of speech and press : exceptions to the First Amendment
by
Henry Cohen
( Book )
42 editions published between
1992
and 2009 in
English
and held by 433 WorldCat member libraries worldwide
The First Amendment to the United States Constitution provides that "Congress shall make no law ... abridging the freedom of speech, or of the press ..." This language restricts government both more and less than it would if it were applied literally. It restricts government more in that it applies not only to Congress, but to all branches of the federal government, and to all branches of state and local government. It restricts government less in that it provides no protection to some types of speech and only limited protection to others. This report provides an overview of the major exceptions to the First Amendment -- of the ways that the Supreme Court has interpreted the guarantee of freedom of speech and press to provide no protection or only limited protection for some types of speech. For example, the Court has decided that the First Amendment provides no protection to obscenity, child pornography, or speech that constitutes "advocacy of the use of force or of law violation ... where such advocacy is directed to inciting or producing imminent lawless action and is likely to incite or produce such action." The Court has also decided that the First Amendment provides less than full protection to commercial speech, defamation (libel and slander), speech that may be harmful to children, speech broadcast on radio and television, and public employees' speech. Even speech that enjoys the most extensive First Amendment protection may be subject to "regulations of the time, place, and manner of expression which are content-neutral, are narrowly tailored to serve a significant government interest, and leave open ample alternative channels of communication." And, even speech that enjoys the most extensive First Amendment protection may be restricted on the basis of its content if the restriction passes "strict scrutiny," i.e., if the government shows that the restriction serves "to promote a compelling interest" and is "the least restrictive means to further the articulated interest."
Awards of attorneys' fees in federal courts and by federal agencies
by
Henry Cohen
( Book )
28 editions published between
1977
and 2008 in
English
and held by 247 WorldCat member libraries worldwide
In the United States, the general rule, which derives from common law, is that each side in a legal proceeding pays for its own attorney. There are many exceptions, however, in which federal courts, and occasionally federal agencies, may order the losing party to pay the attorneys' fees of the prevailing party. The major common law exception authorizes federal courts (not agencies) to order a losing party that acts in bad faith to pay the prevailing party's fees. There are also roughly two hundred statutory exceptions, which were generally enacted to encourage private litigation to implement public policy. Awards of attorneys' fees are often designed to help to equalize contests between private individual plaintiffs and corporate or governmental defendants. Thus, attorneys' fees provisions are most often found in civil rights, environmental protection, and consumer protection statutes
Obscenity and indecency : constitutional principles and federal statutes
by
Henry Cohen
( Book )
20 editions published between
1999
and 2006 in
English
and held by 233 WorldCat member libraries worldwide
"Most pornography is not legally obscene, to be obscene, pornography must, at a minimum, 'depict or describe patently offensive 'hard core' sexual conduct.' "
Obscenity, child pornography, and indecency : recent developments and pending issues
by
Henry Cohen
( Book )
17 editions published between
1999
and 2006 in
English
and held by 186 WorldCat member libraries worldwide
The First Admendment provides that "Congress shall make no law ... abridging the freedom of speech, or of the press ..." The First Amendment applies, with two exceptions, to pornography and indecency, with those terms being used to refer to any words or pictures of a sexual nature. The two exceptions are obscenity and child pornography; because these are not protected by the First Amendment, they may be, and have been, made illegal. Pornography and indecency that are protected by the First Amendment may nevertheless be restricted in order to limit minors' access to them
The Legal Services Corporation
by
Henry Cohen
( Book )
12 editions published between
1992
and 1996 in
English
and held by 145 WorldCat member libraries worldwide
more
fewer
Audience Level
0

1
Kids
General
Special
Audience level: 0.57 (from 0.08 for Freedom of ... to 0.69 for Products l ...)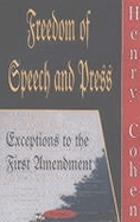 Languages
Covers