Moffitt Library (Berkeley, Calif.). Media Resources Center
Most widely held works by Moffitt Library (Berkeley, Calif.).
Unnatural causes : is inequality making us sick?
by California Newsreel
( Visual )
6 editions published in
2008
in
English
and held by 50 WorldCat member libraries worldwide
Bad sugar: "O'odham Indians, living on reservations in southern Arizona, have perhaps the highest rate of Type 2 diabetes in the world. Some researchers see this as the literal 'embodiment' of decades of poverty, oppression, and loss. A new approach suggests that communities may regain control over their health if they can regain control over their futures."
Getting rich : the quest for wealth in China
( Visual )
1 edition published in
2010
in
English
and held by 42 WorldCat member libraries worldwide
By embracing private enterprise, China has achieved the most rapid economic advance in history. But how much of its success is founded on the abuse and exploitation of workers? This program examines the rise of China's upper class, looking at new philosophies and business tactics that have created millionaires and billionaires in a once-collectivist society. Viewers are introduced to Zuo Zongshen, owner of the Zongshen Industrial Group and one of the richest men in China --as well as two of his factory employees, among the estimated 100 million Chinese who have left rural villages for low-wage urban jobs. Also studied: the nation's alarming rise in workplace injuries and its booming dot-com industry
Party games : Olympic fever and Chinese politics
( Visual )
1 edition published in
2010
in
English
and held by 42 WorldCat member libraries worldwide
How will future historians view the 2008 Summer Olympics? Will the Beijing games be viewed as a turning point in Chinese history? Or will they be seen as a spectacular façade concealing the intractability of Chinese leadership? Filmed during China's pre-Olympic fervor, this program follows citizens of varied ages and backgrounds as they help to shape China's inner workings and its image on the global stage. Viewers will meet a preteen gymnast exhausted from her Olympic training, a high school girl striving to join the Communist Party, a rural mayor up for reelection, and a famous artist who, because of his father's persecution under Mao, is uneasy about his role in designing the Olympic Stadium
Online audio recordings. the car top rally, October 2, 1964
( )
14 editions published in
1999
in
English
and held by 37 WorldCat member libraries worldwide
Coverage of the 1964 "car top" rally which launched the Free Speech Movement at the University of California, Berkeley. In Part 7 a large group of hecklers (mainly fraternity men) surrounds the demonstrators in Sproul Plaza about 11:00 p.m. and demands that the police car be released. Savio urges the crowd to remain seated and quiet and attempts to explain to the opponents why the police car is being held. As members of the opposing group speak demonstrations sing "we shall overcome." Dusty Miller also addresses the crowd
Richard M. Nixon: the Watergate tapes
( )
1 edition published in
2000
in
English
and held by 20 WorldCat member libraries worldwide
Includes twelve and one-half hours of excerpted Nixon White House tape conversations played in open court in the matters U.S. v Connally and U.S. v Mitchell, et. al. in 1974. Edited from 60 hours of recordings subpoenaed by the Watergate Special Prosecution Force
Hip-Hop : Beyond Beats and Rhymes
( Visual )
1 edition published in
2007
in
English
and held by 19 WorldCat member libraries worldwide
A look at the conceptualization of masculinity in hip-hop culture. Includes interviews with prominent rappers, music industry executives, and social critics
Ethnic Notions
by
Marlon T Riggs
( Visual )
2 editions published between
1986
and 2004 in
English
and held by 17 WorldCat member libraries worldwide
Covering more than one hundred years of United States history, traces the evolution of Black American caricatures and stereotypes that have fueled anti-Black prejudice. Loyal Toms, carefree Sambos, faithful Mammies, grinning Coons, savage Brutes and wide-eyed Pickaninnies roll across the screen in cartoons, feature films, popular songs, advertisements, household artifacts, even children's rhymes. These caricatures permeated popular culture from the 1820s to the Civil Rights era and implanted themselves within the American psyche
California since the sixties: revolutions and counterrevolutions
by California Studies Conference
( Visual )
5 editions published in
2007
in
English
and held by 15 WorldCat member libraries worldwide
Author and historian, Gerald Haslam provides reminiscences and perceptions of California and Central Valley culture as it has developed from the 60s to the 90s
Race : the floating signifier
by
Stuart Hall
( Visual )
2 editions published in
2007
in
English
and held by 14 WorldCat member libraries worldwide
Stuart Hall, a renowned public speaker and teacher, presents a lecture on race and the meaning of racial signifiers (e.g., skin color) at Goldsmiths' College, New Cross, London. Begins with an interview of Hall by Sut Jhally
China from the inside
( Visual )
1 edition published in
2010
in
English
and held by 13 WorldCat member libraries worldwide
The first program in a series of four documentaries that surveys China through Chinese eyes to see how history has shaped them, and where the present is taking them. This first segment looks at how the Communist Party exerts control over 1.3 billion Chinese. Do village elections present a chance for people to take a share in power? Chinese people, from farmers to ministers, speak frankly about the problems the country faces and the ways forward
more
fewer
Audience Level
0

1
Kids
General
Special
Audience level: 0.35 (from 0.15 for Getting ri ... to 0.78 for California ...)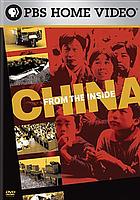 Languages
Covers