Laozi
Overview
| | |
| --- | --- |
| Works: | 2,339 works in 4,648 publications in 27 languages and 30,842 library holdings |
| Genres: | Sacred books Commentaries Sacred works History Pictorial works Criticism, interpretation, etc Prescriptions, formulae, receipts, etc Juvenile works Concordances Poetry |
| Roles: | Author, Dubious author, Other |
| Classifications: | BL1900.L26, 299.51482 |
Most widely held works about Laozi
more
fewer
Most widely held works by Laozi
Tao te ching
by
Laozi
( Book )
304 editions published between
1838
and 2017 in 18 languages and held by 4,687 WorldCat member libraries worldwide
"Tao Te Ching, also commonly known as Lao Tzu, is one of the most important Chinese classics and has had great influence on Chinese thought. It is regarded as the bible of Taoism and is by far the most frequently translated Chinese classic, with over thirty translations into English alone." "The work is said to be by Lao Tzu, who was an elder contemporary of Confucius and founder of the school of thought of Taoism. However, it might be an anthology compiled by a series of editors over a period of time." "This bilingual edition consists of two parts. The English text in Part One is a reprint of the earlier translation of the so-called Wang Pi text, first published by Penguin Books in 1963. The text of the translation has been deliberately left unchanged, because there is room for a translation of what has been for centuries the most widely used version of the Lao Tzu." "Part Two is the fresh translation of a text which is a conflation of two manuscripts of the Lao Tzu, dating at the latest from the early Western Han and discovered at Ma Wang Tui in December 1973. This is far superior to the texts previously available to us, as we have here, for the first time, a text we can be sure is free from scribal errors and the editorial tamperings of subsequent ages. Moreover, we have a text with the fuller use of particles which often rules out a good many of the conjectural interpretations by scholars down through the ages."--BOOK JACKET
Tao teh ching
by
Laozi
( Book )
476 editions published between
1521
and 2017 in 19 languages and held by 2,073 WorldCat member libraries worldwide
A poetic translation to Lao Tzu's text, which teaches the art of leadership and to realize that their true nature is to embody humility, spontaneity, and generosity
The classic of the way and virtue : a new translation of the Tao-te ching of Laozi as interpreted by Wang Bi
by
Bi Wang
( Book )
15 editions published between
1905
and 2004 in
English
and
Chinese
and held by 1,084 WorldCat member libraries worldwide
"Richard John Lynn presents here a translation of the Tao-te ching written especially for English-language readers." "Like his I Ching, this volume includes the interpretive commentary of the third-century scholar Wang Bi (226-249), who wrote the first and most sophisticated commentary on the Tao-te ching. Lynn's critical introduction explores the centrality of Wang's commentaries in Chinese thought, his major contributions to Chinese philosophy, his short but brilliant life, and the era in which he lived, as well as the position of the Tao-te ching in East Asian traditions." "Consisting of eighty-one short aphoristic sections, the Tao-te ching presents a complete view of how the sage rules in accordance with the spontaneous ways of the natural world. Although the work was originally designed to provide advice to the ruler, its teachings are considered tools for living and self-cultivation, applicable to anyone. Wang Bi's commentaries, following each statement, allow modern Western readers to encounter the Tao-te ching in the way that Chinese readers have for more than seventeen centuries - as a religious text and a philosophy of life."--Jacket
Lao Tzu's Tao Te Ching : a translation of the startling new documents found at Guodian
by
Laozi
( Book )
11 editions published between
1996
and 2005 in
English
and
Undetermined
and held by 914 WorldCat member libraries worldwide
"In 1993, an astonishing discovery was made at a tomb in Guodian in Hubei province (east central China). Unearthed there, written on strips of bamboo that, miraculously, have survived intact since 300 B.C., was the "Guodian Laozi"--By far the earliest version of the Tao Te Ching ever found." "Robert Henricks now presents the first English translation of the "bamboo slip Laozi." Differing substantially from later versions of the text, the Guodian Laozi provides us with clues on how and when the text came into being. As Henricks's translation shows, many chapters are missing in this form of the text, and some chapters remain incomplete. All of this suggests that the Tao Te Ching was not yet "complete" when these slips were copied."
Tao, a new way of thinking : a translation of the Tao te ching, with an introduction and commentaries
by
Chung-Yuan Chang
( Book )
13 editions published between
1975
and 2014 in
English
and held by 442 WorldCat member libraries worldwide
This exceptional translation of the Tao Te Ching by Chang Chung-yuan reveals the true wisdom and beauty of this ancient Chinese text. Traditionally attributed to Taoist philosopher Lao Tzu, the Tao Te Ching remains relevant worldwide today, more than two thousand years after it was written. This translation of the Taoist text and the accompanying commentaries delve into the real meaning of the Tao Te Ching and make this Chinese classic accessible, without any reduction of the complex thought within its pages. Chang Chung-yuan is unique in his approach and his introduction and commentaries place the Taoist text in the context of Western metaphysics, making reference to Heidegger, Hegel, Schopenhauer, Jung, Plato, Kant and Nietzsche, and capturing when and how Taoism came to the West. Tao: A New Way of Thinking will be fascinating to anyone with an interest in Taoism and will be particularly appealing to those interested in comparative philosophy
The way and its power; a study of the Tao tê ching and its place in Chinese thought
by
Arthur Waley
( Book )
37 editions published between
1934
and 1978 in
English
and held by 439 WorldCat member libraries worldwide
Arthur Waley s brilliant and definitive translation of one of the foremost of all mystical books, Lao Tzu's Tao Te Ching, has become a modern classic in its own right. Unlike previous translations, it is founded not on the medieval commentaries but on a close study of all the early Chinese literature, and it provides a singular example of authoritative scholarship skillfully blended with brilliant, precise writing. In his introduction, Dr. Waley gives an extensive scholarly account of Chinese thought down to the end of the third century B.C. Here, the author presents a full picture of Chinese prehistory, early philosophy, and literature, showing the original, lofty conception of Taoism before the gradual corruption through the course of centuries, tracing this conflict of philosophies and its background of politics."
Tao te ching : the definitive edition
by
Laozi
( Book )
3 editions published between
2001
and 2003 in
English
and held by 350 WorldCat member libraries worldwide
In this new approach to the "Tao Te Ching", Star explores the full range of meaning for each Chinese character, allowing readers, in effect, to interpret the ancient wisdom book for themselves
The Wisdom of Laotse
by
Laozi
( Book )
26 editions published between
1938
and 1994 in
English
and
Chinese
and held by 316 WorldCat member libraries worldwide
Contains the "Book of Tao," each chapter of which is followed by a comparable passage from Chuangtse's writings; supplemented by "Prolegomena" and "Imaginary conversations between Laotse and Confucius" by Chuangtse
more
fewer
Audience Level
0

1
Kids
General
Special
Audience level: 0.35 (from 0.05 for The tao of ... to 0.85 for Lao-tse un ...)
Related Identities
Associated Subjects
Architecture
Architecture--Philosophy
Bilingual books
Calligraphy, Chinese
Canons, fugues, etc. (Piano)
China
China--Jingmen Shi
Chinese classics
Chinese poetry
Conduct of life
Confucianism and state
Cosmology
Dao de jing (Laozi)
Ethics
Germany
Goldberg-Variationen (Bach, Johann Sebastian)
Ibn al-ʻArabī,
Laozi
Liezi (Liezi)
Manuscripts, Chinese
Military art and science
Music--Philosophy and aesthetics
Nanhua jing (Zhuangzi)
Peace
Philosophers
Philosophy
Philosophy, Asian
Philosophy, Chinese
Philosophy and religion
Philosophy of nature
Piano music
Political science
Religion
Religious life
Sufism
Sunzi bing fa (Sunzi)
Tao
Tao, Deqing
Taoism
Taoism--Sacred books
Taoist literature
Taoist literature, Chinese
Taoist meditations
Taoist philosophy
Taoists
Variations (Piano)
Virtue
Wuzi (Wu, Qi)
Zhu, Xiao-Mei
Zhuangzi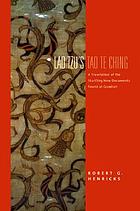 Covers
Languages
English
(467)
Chinese
(299)
Spanish
(114)
German
(112)
French
(69)
Korean
(19)
Japanese
(16)
Italian
(13)
Dutch
(11)
Danish
(9)
Turkish
(9)
Catalan
(5)
Portuguese
(3)
Hungarian
(3)
Swedish
(2)
Norwegian
(2)
Finnish
(2)
Slovenian
(2)
Polish
(1)
Estonian
(1)
Croatian
(1)
Lithuanian
(1)
Lao
(1)
Romanian
(1)
Malay
(1)
Basque
(1)
Thai
(1)
more
fewer