Rosamilia, Mike
Most widely held works by Mike Rosamilia
City of Glass
by
Cassandra Clare
( Book )
2 editions published between
2009
and 2010 in
English
and held by 3,370 WorldCat member libraries worldwide
To save her mother's life, Clary must travel to the City of Glass, the ancestral home of the Shadowhunters -- never mind that entering the city without permission is against the Law, and breaking the Law could mean death. To make things worse, she learns that Jace does not want her there, and Simon has been thrown in prison by the Shadowhunters, who are deeply suspicious of a vampire who can withstand sunlight. As Clary uncovers more about her family's past, she finds an ally in mysterious Shadowhunter Sebastian. With Valentine mustering the full force of his power to destroy all Shadowhunters forever, their only chance to defeat him is to fight alongside their eternal enemies. But can Downworlders and Shadowhunters put aside their hatred to work together? While Jace realizes exactly how much he's willing to risk for Clary, can she harness her newfound powers to help save the Glass City -- whatever the cost?
City of ashes
by
Cassandra Clare
( Book )
3 editions published between
2008
and 2009 in
English
and held by 2,833 WorldCat member libraries worldwide
Clary Fray just wishes that her life would go back to normal. But what's normal when you're a demon-slaying Shadowhunter, your mother is in a magically induced coma, and you can suddenly see Downworlders like werewolves, vampires, and faeries? If Clary left the world of the Shadowhunters behind, it would mean more time with her best friend, Simon, who's becoming more than a friend. But the Shadowhunting world isn't ready to let her go -- especially her handsome, infuriating, newfound brother, Jace. And Clary's only chance to help her mother is to track down rogue Shadowhunter Valentine, who is probably insane, certainly evil -- and also her father. To complicate matters, someone in New York City is murdering Downworlder children. Is Valentine behind the killings -- and if he is, what is he trying to do?
City of fallen angels
by
Cassandra Clare
( Book )
3 editions published in
2011
in
English
and held by 2,728 WorldCat member libraries worldwide
As mysterious murders threaten the new peace between Shadowhunters and Downworlders, only Simon, the Daylighter vampire, can help bring both groups together
Clockwork angel
by
Cassandra Clare
( Book )
1 edition published in
2010
in
English
and held by 2,575 WorldCat member libraries worldwide
When sixteen-year-old orphan Tessa Fell's older brother suddenly vanishes, her search for him leads her into Victorian-era London's dangerous supernatural underworld, and when she discovers that she herself is a Downworlder, she must learn to trust the demon-killing Shadowhunters if she ever wants to learn to control her powers and find her brother
City of bones
by
Cassandra Clare
( Book )
3 editions published between
2007
and 2013 in
English
and held by 2,427 WorldCat member libraries worldwide
When 15-year-old Clary Fray heads out to the Pandemonium Club in New York City, she hardly expects to witness a murder -- much less a murder committed by three teenagers covered with strange tattoos and brandishing bizarre weapons. Then the body disappears into thin air. It's hard to call the police when the murderers are invisible to everyone else and when there is nothing -- not even a smear of blood -- to show that a boy has died. Or was he a boy? This is Clary's first meeting with the Shadowhunters, warriors dedicated to ridding the earth of demons. It's also her first encounter with Jace, a Shadowhunter who looks a little like an angel and acts a lot like a jerk. Within twenty-four hours Clary is pulled into Jace's world with a vengeance, when her mother disappears and Clary herself is attacked by a demon. But why would demons be interested in ordinary mundanes like Clary and her mother? And how did Clary suddenly get the Sight? The Shadowhunters would like to know
Leviathan
by
Scott Westerfeld
( Book )
2 editions published in
2010
in
English
and held by 549 WorldCat member libraries worldwide
In an alternate 1914 Europe, fifteen-year-old Austrian Prince Alek, on the run from the Clanker Powers who are attempting to take over the globe using mechanical machinery, forms an uneasy alliance with Deryn who, disguised as a boy to join the British Air Service, is learning to fly genetically-engineered beasts
Goliath
by
Scott Westerfeld
( Book )
1 edition published in
2012
in
English
and held by 203 WorldCat member libraries worldwide
Alek and Deryn are on the last leg of their round-the-world quest to end World War I, reclaim Alek's throne as prince of Austria, and fall in love. On the way they meet Tesla, a brilliant inventor who claims to have a weapon called Goliath that could end the war. But is he really on their side? Suggested level: intermediate, junior secondary
Behemoth
by
Scott Westerfeld
( Book )
1 edition published in
2011
in
English
and held by 80 WorldCat member libraries worldwide
The behemoth is the fiercest creature in the British navy. It can swallow enemy battleships with one bite. The Darwinists will need it, now that they are at war with the Clanker powers. Deryn is a girl posing as a boy in the British Air Service, and Alek is the heir to an empire posing as a commoner. Finally together aboard the airship Leviathan, they hope to bring the war to a halt. But when disaster strikes the Leviathan's peacekeeping mission, they find themselves alone and hunted in enemy territory. Alek and Deryn will need great skill, new allies, and brave hearts to face what's ahead. -- Provided by publisher
Clockwork princess
by
Cassandra Clare
( Book )
1 edition published in
2014
in
English
and held by 11 WorldCat member libraries worldwide
A net of shadows begins to tighten around the Shadowhunters of the London Institute. Mortmain plans to use his Infernal Devices, an army of pitiless automatons, to destroy the Shadowhunters. He needs only one last item to complete his plan: he needs Tessa Gray. Charlotte Branwell, head of the London Institute, is desperate to find Mortmain before he strikes. But when Mortmain abducts Tessa, the boys who lay equal claim to her heart, Will and Jem, will do anything to save her. As those who love Tessa rally to rescue her from Mortmain's clutches, Tessa realizes that the only person who can save her is herself. But can a single girl, even one who can command the power of angels, face down an entire army? The tangled threads of love and loss intertwine as the Shadowhunters are pushed to the very brink of destruction in the breathtaking conclusion to the Infernal Devices trilogy
City of fallen angels
by
Cassandra Clare
( Book )
1 edition published in
2011
in
English
and held by 8 WorldCat member libraries worldwide
As mysterious murders threaten the new peace between Shadowhunters and Downworlders, only Simon, the Daylighter vampire, can help bring both groups together
more
fewer
Audience Level
0

1
Kids
General
Special
Audience level: 0.13 (from 0.00 for Uglies. Sp ... to 0.36 for The infern ...)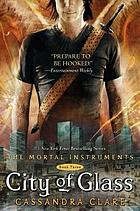 Covers
Languages