McMaster, Joseph
Most widely held works by Joseph McMaster
The elegant universe
by
B Greene
( Visual )
16 editions published between
2003
and 2012 in
English
and held by 1,846 WorldCat member libraries worldwide
Physicist Brian Greene discusses the historical quest for a grand unified theory in physics which will reconcile quantum physics and general relativity, and considers the possibility that superstring theory may bring an end to that search
Newton's dark secrets
( Visual )
8 editions published between
2005
and 2006 in
English
and held by 821 WorldCat member libraries worldwide
Newly discovered manuscripts reveal an Isaac Newton obsessed with religion, the occult, and alchemy
Big bang machine : searching for the Higgs Boson particle
( Visual )
1 edition published in
2015
in
English
and held by 296 WorldCat member libraries worldwide
On July 4, 2012, scientists at the giant atom smashing facility at CERN announced the discovery of a subatomic particle that seems like a tantalizingly close match to the elusive Higgs Boson, thought to be responsible for giving all the stuff in the universe its mass. Now CERN's scientists are preparing to restart the history-making collider, hoping to find the next great discovery
The elegant universe Einstein's dream
( Visual )
5 editions published between
2003
and 2011 in
English
and held by 135 WorldCat member libraries worldwide
This program introduces string theory and shows how modern physics--composed of two theories that are ferociously incompatible--reached its schizophrenic impasse. One theory, general relativity, successfully describes the stars and galaxies, while another, quantum mechanics, is equally successful at explaining small things like atoms and subatomic particles. Albert Einstein, the inventor of general relativity, dreamed of finding a single theory that would embrace all of nature's laws. But in this quest for the so-called "unified" theory, Einstein came up empty-handed, and the conflict between general relativity and quantum mechanics has stymied all who've followed. That is, until the discovery of string theory
Time travel
( Visual )
1 edition published in
1999
in
English
and held by 125 WorldCat member libraries worldwide
Carl Sagan and Kip Thorne postulate how time travel might one day be possible if an advanced civilization were able to harness and manipulate theoretical tunnels through space and time known as "wormholes."
The Elegant Universe String's the Thing
( Visual )
3 editions published between
2003
and 2011 in
English
and held by 68 WorldCat member libraries worldwide
This program opens with a whimsical scene in a movie theater in which the history of the universe trails backwards to the big bang, the moment at which general relativity and quantum mechanics both come into play, and therefore the point at which our conventional model of reality breaks down. Then it's string theory to the rescue as physicist Bryan Greene describes the serendipitous steps that led from a forgotten 200-year-old mathematical formula to the first glimmerings of strings--quivering strands of energy whose different vibrations give rise to quarks, electrons, photons, and all other elementary particles. As Greene explains, scientists are able, for the first time, to combine the laws of the large and small into a harmonious theory of everything. But even with its success, as of the 1990's, physicists realized that the "strings" theory suffered from a pernicious flaw--there were five different versions. A new question was now on the rise: we have one universe, so shouldn't there be one theory of everything?
The elegant universe
( Visual )
1 edition published in
2004
in
English
and held by 7 WorldCat member libraries worldwide
Physicist Bryan Greene's bestselling book comes to the small screen in this stimulating look at a complicated topic: the search for order in the universe. Is a revolutionary proposal--"string theory"--the answer scientists have been seeking for centuries? Greene tackles the mind-boggling complexity of the theory with vivid, clear images, and calmly points the way to the answer
The elegant universe
( Visual )
1 edition published in
2004
in
English
and held by 7 WorldCat member libraries worldwide
Physicist Bryan Greene's bestselling book comes to the small screen in this stimulating look at a complicated topic: the search for order in the universe. Is a revolutionary proposal--"string theory"--the answer scientists have been seeking for centuries? Greene tackles the mind-boggling complexity of the theory with vivid, clear images, and calmly points the way to the answer
String's the thing
( Visual )
2 editions published between
2003
and 2004 in
English
and held by 5 WorldCat member libraries worldwide
Elegant universe welcome to the 11th dimension
( Visual )
2 editions published between
2003
and 2006 in
English
and held by 1 WorldCat member library worldwide
The nuts, bolts and sometimes outright nuttiness of string theory, also known as superstring theory. Shows how in 1995 Edward Witten, aided by others, revolutionised string theory by successfully uniting the 5 diferent versions
The elegant universe
( Visual )
1 edition published in
2004
in
English
and held by 1 WorldCat member library worldwide
Summary: Could tiny strings vibrating in eleven dimensions be the ultimate explanation for everything? 'The Theory of Everything', the nuts and bolts of physics, is one of the most ambitious and exciting theories every proposed, and one that eluded even Einstein. Bestselling author-physicist Brian Green presents 'The Elegant Universe', a lavishly computer-animated three-part documentary series. If string theory proves correct, the universe we see obscures a reality that is far more rich and subtle than anyone ever imagined, a universe with numerous hidden dimensions, a universe in which the fabric of space can tear, a universe that may be but one of many parallel universes ceaselessly popping in and out of existence throughout eternity. Offair, SBS, approx. 52 mins. each
more
fewer
Audience Level
0

1
Kids
General
Special
Audience level: 0.18 (from 0.16 for Newton's d ... to 0.65 for The elegan ...)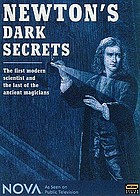 Languages
Covers