Roldán-Figueroa, Rady
Most widely held works by Rady Roldán-Figueroa
The ascetic spirituality of Juan de Ávila (1499-1569)
by
Rady Roldán-Figueroa
( )
14 editions published in
2010
in
English
and held by 1,620 WorldCat member libraries worldwide
Juan de Avila (1499-1569) was one of the most significant exponents of Spanish Golden Age spirituality. His work throughout Andalusia gave rise to the school of Avilista spirituality, a spirituality adopted by both lay men and women as well as secular and regular members of the clergy who were inspired by his stress on moral and spiritual formation and were bound together by the observance of a rigorous program of spiritual discipline. Scholars have increasingly identified him as the author of a distinctively judeoconverso spirituality. Currently, however, there are no comprehensive studies of
Bartolomé de las Casas, O.P. : history, philosophy, and theology in the age of European expansion
( Book )
12 editions published between
2018
and 2019 in
English
and held by 152 WorldCat member libraries worldwide
Bartolome de las Casas, OP: History, Philosophy, and Theology in the Age of European Expansion marks a critical point in Lascasian scholarship. The result of the collaborative work of seventeen prominent scholars, contributions span the fields of history, Latin American studies, literary criticism, philosophy and theology. The volume offers to specialists and non-specialists alike access to a rich and thoughtful overview of nascent colonial Latin American and early modern Iberian studies in a single text. Contributors include: Rolena Adorno; Matthew Restall; David Thomas Orique, O.P.; Rady Roldan-Figueroa; Carlos A. Jauregui; David Solodkow; Alicia Mayer; Claus Dierksmeier; Daniel R. Brunstetter; Victor Zorrilla; Luis Fernando Restrepo; David Lantigua; Ramon Dario Valdivia Gimenez; Eyda M. Merediz; Laura Dierksmeier; Guillaume Candela, and Armando Lampe
Exploring Christian heritage : a reader in history and theology
( Book )
7 editions published between
2012
and 2017 in
English
and held by 150 WorldCat member libraries worldwide
Exploring Christian Heritage provides students and teachers with a rich and substantial introduction to the texts that have shaped the Christian faith. Including significant works penned by Augustine, Aquinas, Martin Luther, John Wesley, John Calvin, and Karl Barth, among others, this collection also highlights essential movements-- from the second to the twentieth centuries-- often glossed over in primary sources readers. From Pentecostalism and the Baptists to feminism and religious liberty movements, Exploring Christian Heritage succinctly integrates the most influential voices throughout Christian history and theology into one invaluable and accessible resource.--Publisher's web site
Pamphlets on religion
by
Hanserd Knollys
( Book )
1 edition published in
2017
in
English
and held by 40 WorldCat member libraries worldwide
Hanserd Knollys was one of the most influential Baptists of the seventeenth century. University educated, he provided guidance for Baptists on many key issues that formed their identity. In debate with other religious leaders he defended conscious commitment to Christ by each individual, the congregational character of the church, and the necessity of religious liberty. In addition to these three foundational beliefs, Knollys provided guidance for early Baptists on debated issues of practice. He endorsed the value of learning from the writings of inspired women, he endorsed congregational singing, and he supported raising funds for the support of ministers. In all of these matters he provided precedents and strong arguments for Baptist practice. Knollys served as pastor of a local London congregation, extended Baptist influence through preaching tours and provided a high standard of education in the schools he organized and led. Knollys provided long-term leadership for Baptists, signing early confessions of faith (1646, 1688) and participating in an early assembly of Baptist ministers in 1690 and 1691. Knollys was best remembered in the popular Baptist mind as a heroic figure who suffered persecution at the hands of the state through loss of property, extended exiles, and repeated imprisonments. His extensive writings addressed the major issues confronted by Baptists during this first century. By articulating Baptist interpretations he helped shape the denomination as much as any early Baptist writer. This book sets each of his major writings in its original context and thereby illumines early Baptist formations. - from publisher
The martyrs of Japan : publication history and Catholic missions in the Spanish World (Spain, New Spain, and the Philippines, 1597-1700)
by
Rady Roldán-Figueroa
( )
3 editions published in
2021
in
English
and held by 30 WorldCat member libraries worldwide
"In The Martyrs of Japan, Rady Roldán-Figueroa examines the role that Catholic missionary orders played in the dissemination of accounts of Christian martyrdom in Japan. The work combines several historiographical approaches, including publication history, history of missions, and "new" institutional history. The author offers an overarching portrayal of the writing, printing, and circulation of books of 'Japano-martyrology.' The book is organized into two parts. The first part, "Spirituality of Writing, Publication History, and Japano-martyrology," addresses topics ranging from the historical background of Christianity in Japan to the publishers of Japano-martyrology. The second part, "Jesuits, Discalced Franciscans, and the Production of Japano-martyrology in the Early Modern Spanish World," features closer analysis of selected works of Japano-martyrology by Jesuit and Discalced Franciscan writers"--
Bartolomé de Las Casas, O.P
by David Thomas Orique O. P.
( )
1 edition published in
2018
in
English
and held by 15 WorldCat member libraries worldwide
The collected works of Hanserd Knollys : pamphlets on religion
( Book )
1 edition published in
2017
in
English
and held by 6 WorldCat member libraries worldwide
Hanserd Knollys was one of the most influential Baptists of the seventeenth century. University educated, he provided guidance for Baptists on many key issues that formed their identity. In debate with other religious leaders he defended conscious commitment to Christ by each individual, the congregational character of the church, and the necessity of religious liberty. In addition to these three foundational beliefs, Knollys provided guidance for early Baptists on debated issues of practice. He endorsed the value of learning from the writings of inspired women, he endorsed congregational singing, and he supported raising funds for the support of ministers. In all of these matters he provided precedents and strong arguments for Baptist practice. Knollys served as pastor of a local London congregation, extended Baptist influence through preaching tours and provided a high standard of education in the schools he organized and led. Knollys provided long-term leadership for Baptists, signing early confessions of faith (1646, 1688) and participating in an early assembly of Baptist ministers in 1690 and 1691. Knollys was best remembered in the popular Baptist mind as a heroic figure who suffered persecution at the hands of the state through loss of property, extended exiles, and repeated imprisonments. His extensive writings addressed the major issues confronted by Baptists during this first century. By articulating Baptist interpretations he helped shape the denomination as much as any early Baptist writer. This book sets each of his major writings in its original context and thereby illumines early Baptist formations. - from publisher
Martín de Roa, S.J. (1559-1637) and the Consolidation of Catholic Literary Culture in Spain
( )
1 edition published in
2015
in
English
and held by 1 WorldCat member library worldwide
The article traces the life and work of Martín de Roa, S.J. (1559-1637). It argues that he occupied an important place in the formation of seventeenth-century Catholic literary culture in Spain. 1 His literary production is discussed against the backdrop of Spanish religious literature of the period and is evaluated in connection to his institutional location as a member of the Society of Jesus. Inventories of private book collections as well as citations or quotations in the written works of learned authors are carefully examined to establish the circulation and appropriation of his writings. The article analyses how the Real Academia Española appropriated his writings for the Diccionario de la lengua castellana, published between 1726 and 1739. The article closes with a study of Roa's Vida de Doña Ana Ponce de León, Condesa de Feria, y después monja en el Monasterio de santa Clara de Montilla (Córdoba 1604), which highlights his post-Tridentine construction of femininity and masculinity
more
fewer
Audience Level
0

1
Kids
General
Special
Audience level: 0.14 (from 0.02 for The asceti ... to 0.96 for The Asceti ...)
Associated Subjects
America
Asceticism
Asceticism--Catholic Church
Baptists
Bible
Casas, Bartolomé de las,
Catholic Church
Christian martyrs
Christian martyrs--Biography
Church history
England
Humanism
Indians, Treatment of
Japan
John,--of Avila, Saint,
John--(John Baumann)
Knollys, Hanserd,
Latin America
Martyrologies
Missionaries
Missions
Philosophy
Political and social views
Publishers and publishing
Reformation
Reformed Baptists
Reina, Casiodoro de,
Religion
Spain
Spirituality
Spirituality--Catholic Church
Theology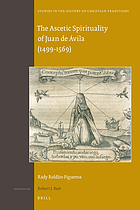 Covers
Alternative Names
Figueroa Rady Roldán

Figueroa, Rady Roldán- 1972-

Figueroa, Rudy Roldán-.

Languages