Telò, Mario
Overview
| | |
| --- | --- |
| Works: | 93 works in 462 publications in 4 languages and 8,294 library holdings |
| Genres: | Conference papers and proceedings History |
| Roles: | Author, Editor, Publishing director, Author of introduction, Other, Director, Contributor, Honoree, Creator, 070, wpr |
| Classifications: | HC240, 341.2422 |
Most widely held works by Mario Telò
European Union and new regionalism : regional actors and global governance in a post-hegemonic era
by
Mario Telò
( )
6 editions published between
2001
and 2018 in
English
and held by 1,231 WorldCat member libraries worldwide
This is a collection of papers that look at the structure of the global economy, and its changing paradigms over the years. The contributors look at how the classic concept of state - autonomous, sovereign and freed of all constraint - never really reflected the reality of the international scene, despite the role it has played in realist and neo-realist theory for many decades. Instead, they consider that the political, social and economic characteristics originally attributed to states seem increasingly to be expressed through regional constructs. The papers in this volume show that even within regionalism there are a variety of different models that exist, and examine five of those models: the European Union; Mercosul-Mercosur; the North American Free Trade Area (NAFTA); the Association of South East Asian Nations (ASEAN); and the South African Development Community (SADC)
European Union and new regionalism : competing regionalism and global governance in a post-hegemonic era
by
Mario Telò
( )
23 editions published between
2014
and 2016 in
English
and held by 1,147 WorldCat member libraries worldwide
Foreword to the Third Edition: regionalism - a new paradigm?, George Joffé; Preface to the Third Edition; Introduction: globalization, new regionalism and the role of the European Union, Mario Telò. Part I Theoretical Perspectives: Regional blocs, world order and the new medievalism, Andrew Gamble; The political economy of new regionalism and world governance, Pier Carlo Padoan; Cultural difference, regionalization and globalization, Thomas Meyer; Alternative models of regional cooperation? The limits of regional institutionalisation in East Asia, Richard Higgott; Interregionalism and world order: the diverging EU and US models, Björn Hettne and Frederik Ponjaert. Part II Comparative Analysis of Regional Groupings: Between trade regionalization and various paths towards deeper cooperation, Mario Telò; NAFTA and United States regional trade policy, Christian Deblock; Competing Latin American regionalisms in a changing world, Sebastian Santander; African regionalism and EU-African interregionalism, Fredrik Söderbaum; Southeast Asian and European integration compared, Kjell A. Eliassen and Agnes Árnadóttir. Part III European Union as a New Civilian Power in the Making: The European Union and the challenges of the near abroad, Mario Telò; The European Union, the eastern neighbourhood and Russia: competing regionalisms, Stephan Keukeleire and Irina Petrova; Regionalism, the European Union and the Arab awakening, George Joffé; Europe: trading power, American hunting dog, or the world's Scandinavia?, Göran Therborn. Part IV Reconsiderations: European Union, regionalism, new multilateralism: three scenarios, Mario Telò. Appendix: regional, interregional and global arrangements and multilateral organizations, Sebastian Santander; Planispheres, Pablo Medina Lockhart; Bibliography; Index.--
International relations : a European perspective
by
Mario Telò
( )
3 editions published in
2009
in
English
and held by 704 WorldCat member libraries worldwide
"International Relations: A European Perspective presents the main schools of international relations while underlining the added value of the European approach. Contrary to US or East Asian perspectives, a European viewpoint adopts a critical approach to traditional cleavages. The author demonstrates the added value of a European approach to international relations, taking into account both the shortcomings and achievements found within European history and current European unity. Key themes include: the evolution of state sovereignty, regional cooperation between previous enemies, political impact of economic integration, regimes building, international rule setting, institutionalization of international relations, and the weight of ideas and perceptions by transnational cooperation. This comprehensive assessment takes into consideration every school of international relations critically presented from this original perspective and as such makes the book ideal for courses on international relations."--Publisher description
Relations internationales : une perspective européenne
by
Mario Telò
( )
27 editions published between
2008
and 2019 in 3 languages and held by 655 WorldCat member libraries worldwide
Recoge: 1. Les origines de la discipline et l'affirmation de l'Ecole rèaliste -2. Les approches systémiques et le néo-realisme aux Etats Unis - 3. L'Economie politique internationale - 4. Les approches marxistes - 5. Critique et dépassement du réalisme et du néo-réalisme - 6. Les théories institutionnalistes - 7. Un monde post souverain? - 8. Les approches constructivistes - 9. Les théories de la politique étragère. L'impact des facteurs internes - 10. L'apport des études européennes au renouvellement des théories des relations internationales
L'Europe en crise et le monde
by
Mario Telò
( )
7 editions published between
2016
and 2019 in
French
and
Undetermined
and held by 438 WorldCat member libraries worldwide
Il n'est pas possible de comprendre la crise européenne sans en approfondir les dimensions internationales. Cet ouvrage montre, et le Brexit l'a confirmé, que l?Union européenne n'est pas un Etat fédéral en formation mais une organisation régionale, complexe, qui rassemble des Etats et des sociétés voisins. Il offre une présentation claire et simple des organisations de coopération régionale en Europe, en Asie, en Afrique et dans les Amériques, et met en lumière leur évolution, leurs similitudes et leurs différences actuelles. Leurs interactions multiples avec la mondialisation et les mutations de l'ordre international depuis la fin de la guerre froide sont au cœur de la démonstration. Le livre s'efforce enfin de répondre à une série de questions: la coopération régionale connaît-elle en Europe, comme dans les autres continents, un nouveau changement historique majeur? La structure multipolaire du monde et la crise financière mondiale contemporaine sont-elles à l?origine d'un monde plus instable où le régionalisme est défié tantôt par des tendances concurrentes et autoritaires, tantôt par des projets géopolitiques et instrumentaux, et de plus en plus par les exigences de légitimité démocratique des sociétés civiles? N'entrons-nous pas dans une phase plus politique et controversée de la coopération régionale ? Quels sont les impacts potentiels de ces formes alternatives de politisation du régionalisme dans les cinq continents et au niveau de la gouvernance globale?
The EU's foreign policy : what kind of power and diplomatic action?
by
Mario Telò
( )
18 editions published between
2012
and 2016 in
English
and held by 418 WorldCat member libraries worldwide
"A very timely and topical volume concerned with the impact of the Lisbon Treaty on the European Union's (EU) capacity to further develop a distinctive foreign policy in accordance with the various policy instruments necessary to fulfil its role as a global actor. This edited volume brings together a host of scholars in the fields of European Studies and International Relations whose contributions offer both innovative theoretical perspectives and new empirical insights. Overall, the book emphasizes the question of the EU's evolving legitimacy and efficiency as a foreign policy and diplomatic actor on the regional and global stage. This shared concern is clearly reflected in the book's three-pronged structure: Part 1 - the EU a controversial global political actor in an emergent multipolar world with contributions from A. Gamble, M. Telò and J. Howorth; Part 2 - After the Lisbon Treaty: the Common Foreign and Security Policy and the European External Action Service, includes chapters from C. Lequesne, C. Carta and H. Mayer; Part 3 - R. Gillespie, F. Ponjaert, G. Grevi, Z. Chen, H. Nakamura and U. Salma Bava assess the CFSP and the EU's external relations in action. Foreword by S.E.M P. Vimont. As a result, the book is a useful and relevant contribution to European Union studies and International Relations' research and teaching. It offers any interested party informed and comprehensive insights into EU foreign policy at a time when it seeks to undertake an increased role in World affairs and this despite economic crisis"--Provided by publisher
Globalisation, multilateralism, Europe : towards a better global governance?
by
Mario Telò
( )
20 editions published between
2013
and 2016 in
English
and held by 357 WorldCat member libraries worldwide
This student-friendly textbook offers a comprehensive introduction to globalization studies and the European Union within a multipolar world. It provides its readers with critical analysis of the key concepts of multilateral global and regional governance and Europe's role in the world; and this in an accessible and intelligible fashion. This volume collects contributions by eminent scholars from world class universities from five different continents. As such, this unique exercise in transnational multi-disciplinary cooperation, provides extensive coverage of the main issues pertaining to multilateral cooperation - notably its history, troubles, legitimacy challenges and efficiency questions - from a variety of national perspectives. The book covers the major issues confronting students of European and global studies, amongst which: pressing security challenges, new forms of institutionalized cooperation, shifting international trade flows, the notion of responsibility to protect, social imbalances and environmental emergencies, the need for less contingent forms of legitimacy for global regulation, as well as global public opinion and transnational civil society networks. Each chapter includes a summary of its salient points; methodological indications; illuminating illustrations; and a suggested list for further reading. This textbook strives to help students develop a better and more secure grasp of the innovative balance between interdisciplinary openness and disciplinary rigor when engaging with global governance studies, comparative regionalism, normative studies, international political economy or international law --
The European Union and global governance
by
Mario Telò
( Book )
14 editions published between
2008
and 2009 in
English
and held by 230 WorldCat member libraries worldwide
1. Introduction: The EU as a model, a global actor and an unprecedented power / M. Telo -- 2. The European Union democratic agenda / P. Magnette and K. Nicolaidis -- 3. The international projection of the Euro and the international monetary system / J.V. Louis -- 4. EU competition policy in a global world / M. Dewatripont and Patrick Legros -- 5. The influence of the European socio-economic model in the global economy / M.J. Rodrigues -- 6. The EU's external relations and their evolving legal framework / M. Dony -- 7. The EU Common Commercial Policy and regional-global regulation / P. Conconi -- 8. The EU's common development cooperation policy / N. Schijver -- 9. The role of the EU in global environmental and climate governance / S. Oberthür -- 10. The external dimension of the European Area for Freedom, Security and Justice / A. Weyembergh and Ph. De Bruycker -- 11. Global governance: a challenge for Common Foreign Security Policy and European Security and Defense Policy / E. Remacle and B. Delcourt -- 12. The EU's neighbourhood policies / R. Seidelmann -- 13. The EU and its far-abroad: interregional relations with other continents / F. Ponjaert and S. Santander -- 14. Europe in the world: imperial legacies / P. Lagrou -- 15. European integration and the cosmopolitan way / J.M. Ferry
more
fewer
Audience Level
0

1
Kids
General
Special
Audience level: 0.31 (from 0.01 for Internatio ... to 0.89 for L'État et ...)
Related Identities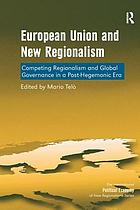 Covers
Alternative Names
Mario Telò acadèmic italià

Mario Telò académico italiano

Mario Telò académicu italianu

Mario Telò accademico italiano

Mario Telò Italian scholar

Mario Telò italienischer Akademiker

Mario Telò scoláire Iodálach

Telò, Mario

Telò, Mario Luigi 1950-

Languages