Catholic Church
Overview
| | |
| --- | --- |
| Works: | 358,825 works in 650,809 publications in 17 languages and 8,247,921 library holdings |
| Genres: | Catechisms Gregorian chants Periodicals Christmas music Masses Creeds Illustrated works Vocal scores Operas Easter music |
| Roles: | Editor, Creator, Other, isb, Contributor, Printer, Composer, Plaintiff, enj, Book designer, Publisher, Compiler, win, Dedicatee, Collector, Performer, Defendant, 475, Organizer of meeting, Book producer, Translator, Publishing director |
| Classifications: | BX1959.3.E5, 238.2 |
Most widely held works about Catholic Church
more
fewer
Most widely held works by Catholic Church
The Church teaches : documents of the Church in English translation
by
Heinrich Denzinger
( Book )
68 editions published between
1908
and 2017 in 4 languages and held by 1,350 WorldCat member libraries worldwide
Documents used in the text are taken principally from the 24th, 28th, and 29th editions of Heinrich Denzinger's Enchiridion symbolorum
Le Petit catéchisme de Québec
by
Catholic Church
( )
178 editions published between
1816
and 2018 in
French
and held by 1,085 WorldCat member libraries worldwide
The Liber usualis, with introduction and rubrics in English
by
Catholic Church
( )
47 editions published between
1934
and 1997 in 4 languages and held by 985 WorldCat member libraries worldwide
Edition with complete musical notation. Bound with Catholic Church in the United States. Liturgy and ritual. Proper feasts kept in the dioceses of the United States of America. 1961
Chant
by
Santo Domingo de Silos (Benedictine abbey)
( Recording )
1 edition published in
1994
in
Latin
and held by 976 WorldCat member libraries worldwide
The Gregorian chant has been a part of Catholicism since at least the ninth century, and continues to be embraced at Catholic monasteries in the 1990s. One such monastery is the Monasterio de Santo Domingo de Silos, located in northwestern Spain. It was at that monastery that this enriching collection of Gregorian chants was recorded by the Benedictine Monks of Santo Domingo de Silos. One needn't be Catholic to appreciate the richness of Verbum Caro Factum Est, Imroperium, Veni Sancte Spiritus, Spiritus Domani, and other time-honored chants heard on this CD
Code of canon law, Latin-English edition
by
Catholic Church
( Book )
15 editions published between
1983
and 2020 in
English
and held by 760 WorldCat member libraries worldwide
Title on added t.p.: Codex Iuris Canonici.Includes index
Old Roman liturgical chants
by
Catholic Church
( )
9 editions published between
1986
and 2006 in
Latin
and held by 665 WorldCat member libraries worldwide
more
fewer
Audience Level
0

1
Kids
General
Special
Audience level: 0.34 (from 0.00 for Registrum ... to 0.68 for Lettres é ...)
Related Identities
Associated Subjects
Algeria--Hippo (Extinct city)
Apologetics
Augustine,--of Hippo, Saint,
Bishops
Books of hours
Boston globe
Canon law
Catechisms, English
Catholic Church
Catholics
Child sexual abuse
Child sexual abuse--Investigation
Christianity
Christianity and antisemitism
Christian life
Christian saints
Christmas music
Church history
Clergy--Sexual behavior
Diplomatic relations
Dogma, Development of
Easter music
England
Europe
Germany
Globe Newspaper Co
Gregorian chants
Illumination of books and manuscripts
Interfaith relations
International relations
Investigative reporting
Jesuits
John Paul--II,--Pope,
Judaism
Massachusetts--Boston
Missions
Newman, John Henry,
Papacy
Periodicals
Pius--XII,--Pope,
Politics and government
Relations with Jews
Spiritual life
Spiritual life--Catholic Church
Summa theologica (Thomas, Aquinas, Saint)
Theology
Theology, Doctrinal
Theology, Doctrinal--Catholic authors
United States
War--Religious aspects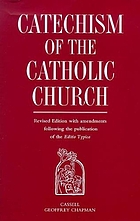 Covers
Alternative Names
Apostolischer Stuhl.

Baselgia catolica romana

Bisearica Romacatholicã

Biserica Catolică comunitate religioasă creștină condusă de papa din Roma și care nu folosește ritul bizantin

Biserica Romano-Catolică unul din 23 de biserici catolice

Catholic Church

Catholic Church communion of Christian Churches led by the Pope, consisting of the Latin Church and 23 Eastern Catholic Churches

Catholic Church. Kuria Rzymska.

Catholic Church. Roman Curie.

Catholic Church. Römische Kurie.

Catolicesim

Catolicismo Romano

Cèsa Catòlica

Cexa Catòłica

Chiesa

Chiesa cattolica

Chiesa cattolica Chiesa cristiana che riconosce il primato di autorità al vescovo di Roma

Chiesa cattòlica cumunità cristiana ca ricanusci l'auturità dî vìscuvi comu succissura di l'apòstuli e dû Papa comu succissuri di Santu Petru

Chiesa cattolica romana

Chiesia cattoleca

Church of Rome

Církev katolická

Církev římskokatolická

Cocin katolika

Crkva katolička

Curia romana

Curie romaine.

Den Katolske kirke

Den romersk-katolske kirke en av 23 katolske kirker

Den romersk-katolske kyrkja

Dlijia catolica

Eaglais Chaitliceach Rómhánach

Eaglais Chaitligeach

Ecclesia Catholic

Ecclesia catholica

Ecclesia catholica Curia romana

Ecclesia Catholica Romana Ecclesia Latina et 23 ecclesiae orientales qui papam agnoscunt

Eclesie Catolic

Éé' néíshoodí

Eglesa Catolica

Église catholique

Église catholique communion d'Églises chrétiennes qui reconnaissent la primauté de l'autorité de l'évêque de Rome en tant que pape

Église catholique. Curia romana.

Église catholique. Curie romaine.

Église catholique latine

Église catholique romaine

Église catolike

Égllése catolica romana

Égllise catholique

Eglos Katholik Romanek

Eigreija Católica

Ekeléziya katolike

Elésia católica

Erromatar Eliza Katolikoa

Església Catòlica Romana conjunt de 24 comunitats cristianes en comunió amb el papa

États Pontificaux

Fiangonana Katolika

Gedollisch

Gereja Katolik

Gereja Katolik Roma Gereja Denominasi Kristen Katolik

Gereja Roman Katolik

Giáo hội Công giáo Rôma

Glèisa Catolica Romana

Gréja Katulik Roma

Heilige Stuhl.

Heiliger Stuhl

Holy See.

Iglesia Católica

Iglesia católica conjunto de 24 comunidades cristianas en comunión con el Papa

Iglesia Katolika

Iglesia romano catolico

Igreja Católica

Igreja Católica comunidade cristã liderada pelo Papa e consistindo de uma igreja latina e de 23 igrejas católicas orientais

Igreja Católica igreja cristã

Igrexa católica Igrexa en comuñón co papa, organizada en 24 igrexas particulares

Ìjọ Kátólìkì

Ilesia Catolica

Iliz katolik roman

Kanisa Katoliki

Katalikų Bažnyčia viena iš 23 katalikų bažnyčių

Katholieke Kerk

Katholieke kerke

Katholikē Ekklēsia

Katholische Kirche

Kathoulesch Kierch Kathoulesch Kierch déi de Poopst vu Roum als Primat unerkennt

Kathuliku Inlisya

Katolëcczi Kòscół

Katoličeskaj Cerkovʹ

Katolicheskai?a t?serkovʹ

Katolicheskai︠a︡ t︠s︡erkovʹ

Katolícka cirkev

Katolícka cirkev latinská cirkev a východné katolícke cirkvi

katolická církev společenství římskokatolické církve a 23 východních katolických církví

Katolička Crkva zajedništvo Latinske crkve i 23 Istočnih katoličkih Crkava

Katoličke Cerkve

Katolické Církve

Katoličke Crkve

Katolicki Kościół

Katolicki Kosþcioþł

Katolik

katolik aiamihewin

Katolik cherkovi

Katolik çirkäw

Katolik eklezio

Katolik firgoz

Katolik Kilisesi Hristiyanlığın bir mezhebi

Katolik kilsesi

katolika eklezio kristana eklezio, kies estro estas la Papo; konsistas el la Latina Eklezio kaj 23 Orientaj Eklezioj

Katoliki Cejewiye

Katoliku kirik

Katolikus Egyház

Katoline jumalankodikund

katolinen kirkko paavin johtama, maailman suurin kristillinen kirkko

Katolisizm

Katolska Cyrkej

katolska cyrkej zhromadźenstwo romsko-katolskeje cyrkwje a 23 katolskich wuchodnych cyrkwjow

Katolska kyrkan

Katolske kirke

Katolyt?sʹka t?serkva

Katolyt︠s︡ʹka t︠s︡erkva

Katoolske Säärke

Kenesiyah ha-Ḳatolit

Kisha Katolike Romake

Knisja Kattolika

Kongregacje rzymskie.

Kościół Katolicki

Kościół Katolicki. Curia romana.

Kościół Katolicki. Kongregacje Rzymskie.

Kościół Katolicki. Kuria Rzymska.

Kościół katolicki wspólnota uznająca władzę papieża i składająca się z Kościoła łacińskiego oraz 23 Katolickich Kościołów wschodnich

Kościół Rzymskokatolicki

Kosþcioþł Katolicki

Kosþcioþł Rzymskokatolicki

Kuria Rzymska.

Latin Church

Légliz katolik

Lò̤-mā-tiĕng-cuō-gáu

Misa Catolico Romano

Nihon Katorikku Kyōkai

RCC

Rēmisc Cirice

Remisch-katholische Kira

Rimokatolička crkva

Římskokatolická církev

Rimskokatoliška cerkev krščanska Cerkev, ki jo vodi papež

Roems-Kathelieke Kèrk

Roma-Katolik kilsəsi

római katolikus egyház a latin rítusú katolikus egyház és azon keleti katolikus egyházak közössége, amelyek elfogadják Róma püspökét legfőbb elöljárójuknak

Romalaš katolalaš girku

Roman catholic Church

Roman Catholic kirk

Roman Curia.

Roman Kaetolik

Rómarkirkjan

Romas katoļu baznīca

Romas Katoļu baznīca lielākā Kristīgā baznīca pasaulē

Romersk-katolska kyrkan ett av 23 katolska kyrkosamfund

Romersk-katolske kirke

romerskkatolske kirke

Römisch-Katholische Kirche

römisch-katholische Kirche Gemeinschaft der Lateinischen Kirche und 23 katholischer Ostkirchen unter dem Papst

Römisch-katolischi Chile

Römische Kirche

Römische Kurie.

Rómversk-kaþólska kirkjan

Rómversk-katólska kirkjan

Rooms-Katholieke Karke

Rooms-Katholieke Kerk gemeenschap van de Latijnse kerk en 23 oosters-katholieke kerken

Rooms-Katolieke Kerk

Rooms-Katteliek

Röömsch-kathoolsche Kark

Roomsk-katolike tsjerke

Ruoman Kiaklik Choch

Ruomas Katalėku Bažnīčė

Rzimskokatolicki kośćůł

Saint-Siège.

Sancta Sedes.

Santa Sé.

Santa Sede.

Santa Seu

Sede Apostolica

Sede Apostólica Romana

Sedes Apostolica.

Seu Apostòlica

Siège (Saint-)

Simbaan a Katoliko kadakkelan a simbaan ti Kristiano

Simbahang Katolika Romana

Simbahang Katoliko

Singbahan Katoliko Romano

Stolica Apostolska.

Stolica Święta.

Tamezdayt takatulikt

Thian-chú-kàu-hoē

Thiên-chú-kau

Tupãrape Oparupigua

Vatican

Vesturkirkjan

yr Eglwys Gatholig Rufeinig

Καθολική Εκκλησία που κυβερνάται από τον Πάπα, σε κοινωνία και ένωση με την Ρωμαϊκή Έδρα

калисои католикӣ

Каталіцкая Царква найбуйнейшая хрысціянская канфесія, якая складаецца з Рымска-Каталіцкай Царквы і Усходніх Каталіцкіх Цэркваў

Католик сиркәүе

Католик сүм

Католик сүмэ

Католик Таҥара дьиэтэ

Католик шіркеуі

католикин килс

Католицька церква Найбільша християнська церква

Католическа църква една от християнските църкви

католическая церковь одна из христианских церквей

Католичка црква

Римокатолицька церьков

Римокатоличка црква

Հռոմի Կաթոլիկ եկեղեցի

<<ה>>כנסייה הקתולית

הכנסיה הקתולית

הכנסייה הקתולית

כנסיה הקתולית

כנסייה הקתולית

קאטוילישע קירכע

الكنيسة الرومانية الكاثوليكية أكبر الكنائس المسيحية، ومركزها في الفاتيكان

رومن کیتھولک

كنيسة الروم الكاتوليك

لكنيسة الرومانية لكلاطوليكية

کاتولیک کلیسا

کاتولیک کلیساسی

کلیسای کاتولیک بزرگترین کلیسای مسیحیت به رهبری پاپ و قرارگرفته در شهر رُم در کشور ایتالیا

کڵێسای کاتۆلیک یەکێک لە لقەکانی ئایینی ماسیحییەت

کیتھولک چرچ

ܥܕܬܐ ܩܬܘܠܝܩܝ ܕܪܗܘܡܝܐ

कैथोलिक गिरजाघर

कॅथलिक चर्च

रोमन क्याथोलिक चर्च

ক্যাথলিক মণ্ডলী সদস্যসংখ্যা অনুযায়ী খ্রিস্ট ধর্মের বৃহত্তম গির্জা বা স্বতন্ত্র শাখা

ਕੈਥੋਲਿਕ ਚਰਚ

கத்தோலிக்க திருச்சபை

కాథలిక్ చర్చి

ಕ್ಯಾಥೋಲಿಕ್ ಚರ್ಚ್

കത്തോലിക്ക സഭ

කතෝලික සභාව

โรมันคาทอลิก

ရိုမန်ကတ်သလစ် ရောမရဟန်းမင်းကြီး ဦးဆောင်သော အကြီးမားဆုံး ခရစ်ယာန်ကျောင်းတော်

რომის კათოლიკური ეკლესია

가톨릭교

로마 가톨릭교회 전 세계적으로 약 13억 명의 신자를 가진 세계 최대 규모의 기독교 교파

천주교

የሮማ ካቶሊክ ቤተ ክርስቲያን

ព្រះសហគមន៍កាតូលិក

カトリック教会

カトリック教会 キリスト教の教派のひとつ

罗马公教.

天主敎會

天主教會 特指由教皇領導的梵蒂岡教會

天主教會 由教宗領導的基督教會,由拉丁教會和23個東方天主教會組成

Languages