Bushman, Richard L.
Most widely held works about Richard L Bushman
more
fewer
Most widely held works by Richard L Bushman
Joseph Smith and the beginnings of Mormonism
by
Richard L Bushman
( Book )
17 editions published between
1984
and 1988 in
English
and held by 3,276 WorldCat member libraries worldwide
The core of Mormon belief was a conviction about actual events. The test of faith was not adherence to a certain confession of faith but belief that Christ was resurrected, that Joseph Smith saw God, that the Book of Mormon was true history and not philosophy, and that Peter, James, and John restored the apostleships
From Puritan to Yankee : character and the social order in Connecticut, 1690-1765
by
Richard L Bushman
( )
67 editions published between
1967
and 2009 in
English
and
Undetermined
and held by 3,243 WorldCat member libraries worldwide
The years from 1690 to 1765 in America have usually been considered a waiting period before the Revolution. Mr. Bushman, in his penetrating study of colonial Connecticut, takes another view. He shows how, during these years, economic ambition and religious ferment profoundly altered the structure of Puritan society, enlarging the bounds of liberty and inspiring resistance to established authority. This is an investigation of the strains that accompanied the growth of liberty in an authoritarian society. Mr. Bushman traces the deterioration of Puritan social institutions and the consequences for human character. He does this by focusing on day-to-day life in Connecticut--on the farms, in the churches, and in the town meetings. Controversies within the towns over property, money, and church discipline shook the land of steady habits, and the mounting frustration of common needs compelled those in authority, in contradiction to Puritan assumptions, to become more responsive to popular demands. In the Puritan setting these tensions were inevitably given a moral significance. Integrating social and economic interpretations, Mr. Bushman explains the Great Awakening of the 1740's as an outgrowth of the stresses placed on the Puritan character. Men, plagued with guilt for pursuing their economic ambitions and resisting their rulers, became highly susceptible to revival preaching. The Awakening gave men a new vision of the good society. The party of the converted, the New Lights, which also absorbed people with economic discontents, put unprecedented demands on civil and ecclesiastical authorities. The resulting dissension moved Connecticut, almost unawares, toward republicanattitudes and practices. Disturbed by the turmoil, many observers were, by 1765, groping toward a new theory of social order that would reconcile traditional values with their eighteenth-century experiences. Vividly written, full of illustrative detail, the manuscript of this book has been called by Oscar Handlin one of the most important works of American history in recent years
Mormonism : a very short introduction
by
Richard L Bushman
( )
11 editions published in
2008
in
English
and held by 2,600 WorldCat member libraries worldwide
From the Publisher: Beginning with a handful of members in 1830, the church that Joseph Smith founded has grown into a world-wide organization with over 12 million adherents, playing prominent roles in politics, sports, entertainment, and business. Yet they are an oddity. They are considered wholesome, conservative, and friendly on one hand, and clannish, weird, and self-righteous on the other. Mormonism: A Very Short Introduction explains who Mormons are: what they believe and how they live their lives. Written by Richard Lyman Bushman, an eminent historian and practicing Mormon, this compact, informative volume ranges from the history of the Church of Jesus Christ of Latter-day Saints to the contentious issues of contemporary Mormonism. Bushman argues that Joseph Smith still serves as the Mormons' Moses. Their everyday religious lives are still rooted in his conceptions of true Christianity. They seek revelation to solve life's problems just as he did. They believe the authority to seal families together for eternity was restored through him. They understand their lives as part of a spiritual journey that started in a "council in heaven" before the world began just as he taught. Bushman's account also describes the tensions and sorrows of Mormon life. How are Mormons to hold on to their children in a world of declining moral standards and rampant disbelief? How do rational, educated Mormons stand up to criticisms of their faith? How do single Mormons fare in a church that emphasizes family life? The book also examines polygamy, the various Mormon scriptures, and the renegade fundamentalists who tarnish the LDS image when in fact they're not members. In a time when Mormons such as Mitt Romney and Harry Reid are playing prominent roles in American society, this engaging introduction enables readers to judge for themselves how Mormon teachings shape the character of believers
Joseph Smith : rough stone rolling
by
Richard L Bushman
( Book )
15 editions published between
2005
and 2007 in
English
and
Undetermined
and held by 1,631 WorldCat member libraries worldwide
Presents the life of the founder of the Church of Latter Day Saints, from his hardscrabble early life in rural New York, to the visions that inspired The Book of Mormon, and his untimely death at the hands of a mob in 1844
Building the kingdom : a history of Mormons in America
by
Claudia L Bushman
( )
11 editions published in
2001
in
English
and held by 1,549 WorldCat member libraries worldwide
Mormonism is one of the world's fastest growing religions, doubling its membership every 15 years. The Church of Jesus Christ of Latter-day Saints (the formal denomination of the Mormon church) is now 10 million strong, with more than half of its membership coming from outside the United States. More than 88 million copies of The Book of Mormon have been printed, and it has been translated into more than 50 languages. Mormons in America tells the tumultuous story of this religious group, from its humble origins in small-town New York State in 1830 to its present heyday. Claudia and Richard Bushman introduce us to charismatic leaders like Joseph Smith and Brigham Young, go deep behind Mormon rites and traditions, take us along the adventurous trail of the Mormon pioneers into the West, evoke the momentous erection of Salt Lake City in the desert, and draw us into the dozens of skirmishes, verbal attacks, and court battles between Mormons and their neighbors, other religions, the media, and the American government
Mormons in America
by
Claudia L Bushman
( Book )
11 editions published between
1998
and 2012 in
English
and held by 1,426 WorldCat member libraries worldwide
Chronicles the history of the Church of Jesus Christ of Latter-Day Saints beginning in America in the early 1800s and continuing to the present day throughout the world
The refinement of America : persons, houses, cities
by
Richard L Bushman
( Book )
20 editions published between
1992
and 1993 in
English
and held by 1,220 WorldCat member libraries worldwide
In this illuminating analysis of early American society, Richard Bushman traces the introduction of gentility into the life of the nation. He explores the concern for stylishness, taste, beauty, and politeness that began to be felt in America after 1700, and examines how this concern changed our environment and culture. Bushman makes clear that the quest for gentility, far from being trivial, was the serious pursuit of a personal and social ideal with sources in classical and Renaissance literature. In Europe, the growing interest in manners and beautiful environments was connected to the power of royal courts. In America, the transformation of architecture, furnishings, and wardrobes - from plain, rudimentary, and frugal, to decorative and sumptuous - was linked to the transfer of power to the colonial gentry. Gentility was the culture of the colonies' ruling elite. After the Revolution, gentility spread to a broad middle class, as an essentially aristocratic culture was democratized. The change affected nearly every aspect of life. The spread of gentility turned the conduct of ordinary people into a performance. Courtesy books taught people how to hold their bodies, and how to dress, eat, and converse in a pleasing way. The wish to be pleasing came to encompass virtually every form of behavior and every aspect of the physical environment, from houses and yards to public buildings and the adornment of streets. Factories sprang up to supply a vast new market for furniture, dishes, curtains, and carpets. Cities and towns planted trees, landscaped parks and greens, and erected fashionable hotels and churches. All of these developments were part of a vast effort to present a refined face to the world and to create a new kind of society. Bushman stresses that these visions of a more elegant life both complemented and competed with other American values associated with evangelical religion, republicanism, capitalism, and the work ethic. The melding with other values resulted in contradictions that were not easily resolved and that provided much cultural work for writers and theologians. Finally, he argues that gentility gained strength from collaboration with capitalism, but in a way that blunted class conflict. The combination of capitalism, republicanism, and gentility prevented the hardening of class consciousness. Instead there emerged a belief in the right of every citizen to membership in the middle class
King and people in provincial Massachusetts
by
Richard L Bushman
( Book )
17 editions published between
1984
and 2013 in
English
and held by 1,006 WorldCat member libraries worldwide
"[This book]...explores what monarchy meant to Massachusetts under its second charter and why the momentous change to republican government came about"--Inside book jacket
Believing history : Latter-day Saint essays
by
Richard L Bushman
( )
8 editions published between
2004
and 2014 in
English
and held by 943 WorldCat member libraries worldwide
Joseph Smith cannot be dismissed as a colorful fraud, Bushman argues, nor seen only as a restorer of religious truth. Entangled in nineteenth-century Yankee culture -- including the skeptical Enlightenment -- Smith was nevertheless an original who cut his own path. And while there are multiple contexts from which to draw an understanding of Joseph Smith (including magic, seekers, the Second Great Awakening, communitarianism, restorationism, and more), Bushman suggests that Smith stood at the cusp of modernity and presented the possibility of belief in a time of growing skepticism. When examined carefully, the Book of Mormon is found to have intricate subplots and peculiar cultural twists. Bushman discusses the book's ambivalence toward republican government, explores the culture of the Lamanites (the enemies of the favored people), and traces the book's fascination with records, translation, and history. Yet Believing History also sheds light on the meaning of Joseph Smith and the Book of Mormon today. How do we situate Mormonism in American history? Is Mormonism relevant in the modern world? Believing History offers many surprises. Believers will learn that Joseph Smith is more than an icon, and non-believers will find that Mormonism cannot be summed up with a simple label. - Publisher
more
fewer
Audience Level
0

1
Kids
General
Special
Audience level: 0.16 (from 0.05 for Building t ... to 0.79 for A random s ...)
Related Identities
Associated Subjects
Agriculture
Architecture, Domestic
Arrington, Leonard J
Authors
Bible
Book of Mormon
Brodie, Fawn McKay,
Bushman, Claudia L
Bushman, Richard L
Church history--Primitive and early church
Church of Jesus Christ of Latter-day Saints
Civilization
Connecticut
Delaware--Kent County
Farmers
Farm life
Gates, Crawford
Geographical perception
Great Awakening
Handlin, Oscar,
Historiography
House furnishings
Inventories of decedents' estates
Kingdom of God--History of doctrines
Learning and scholarship
Manners and customs
Maryland--Elkton
Massachusetts
Material culture
Middle class
Minorities
Mormon Church
Mormon Church--Historiography
Mormon Church--Presidents
Mormon cities and towns
Mormons
Mormon scholars
Mormons--Cultural assimilation
Mormons--Historiography
Nibley, Hugh,
Politics and government
Presidents
Public records
Religion
Religion historians
Revivals
Shipps, Jan,
Smith, Joseph,--Jr.,
Social conditions
United States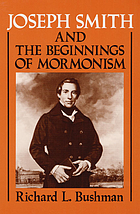 Covers
Alternative Names
Bushman, Richard 1931-

Bushman, Richard L.

Bushman, Richard Lyman.

Bushman, Richard Lyman 1931-

Lyman Bushman, Richard 1931-

Richard Bushman American historian

Richard Bushman Amerikaans historicus

Richard Bushman historiador estadounidense

Richard Bushman historiador estatunidenc

Richard Bushman US-amerikanischer Historiker

Languages