South Africa
Most widely held works about South Africa
more
fewer
Most widely held works by South Africa
The Union of South Africa
by
R. H Brand
( Book )
3 editions published between
1909
and 1969 in
English
and held by 377 WorldCat member libraries worldwide
more
fewer
Audience Level
0

1
General
Special
Audience level: 0.00 (from 0.00 for Apartheid ... to 0.00 for Apartheid ...)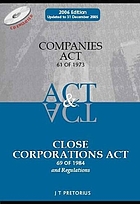 Covers
Alternative Names
Aafrikaa Kibbaa

Åarjel-Afrika

Abagatan nga Aprika

Abibir Anaafo

Aferika Borwa

Aferika i Saute

ʻAfilika Tonga

'Afirita i 'Apato'a

Afirka ta kudu

Afraga a Deas

Africa Australis

Africa dal Sid

África de l Sul

Africa de Sud

Africa del Sud

África del Sur

Africa di Not

África do Sul

Àfrica dû Sud

Africa Huitztlāmpa

Africa, South

Afrig gu Bëj-saalum

Afrik disid

Afrika A̱tak

Afrika Atsimo

Afrika Borwa

Afrika Dhyhow

Afrika-Dzonga

Afrika Hadɛ kiŋ

Afrika Kidul

Afrika Kusini

Afrîka-Mbongo

Afrika Selatan

Afrika Seulatan

Afrika t'Isfel

Afrîkaya Başûr

Afrikaya Veroci

Afrike dech Sud

Afrique du Sud

Afurika Tshipembe

Afurika y'Epfo

An Afraic Theas

ʻApelika Hema

Aprika Salatan

Āwherika-ki-te-tonga

Azania

Azania (Country)

Azanie

Cenübiy Afrika

Ceva kei Aferika

Cộng hòa Nam Phi

Cənubi Afrika Respublikası

De Affrica

Dél-Afrika

Dél-afrikai Köztársaság

Derom Afriḳah

Dienvidāfrika

Dīnavydu Afrikys Republika

Dokxin Afrika

Dorem-Afriḳe

Etelä-Afrikka

Geeafrika

Government of South Africa.

Güney Afrika

Güney Afrika Cumhuriyeti

Günorta Afrika Respublikasy

Gúúsù Áfríkà

Habagatang Aprika

Hegoafrika

iRiphabhulikhi yeNingizimu Afrika

iRiphabhuliki yaseNingizimu Afrika

IRiphabliki yaseNingizimu Afrika

iRiphabliki yeSewula Afrika

iRiphabliki yomZantsi Afrika

I︠U︡.A.R.

I︠U︡AR

I︠U︡zhno-Afrikanskai︠a︡ Respublika

I︠U︡zhno-Afrikanskiĭ Soi︠u︡z

Janūb Ifrīqiyā

Janubiy Afrika Respublikasi

Jihoafrická republika

Juhoafrická republika

Jumhūrīyat Janūb Ifrīqiyā

Južna Afrika

Južnoafrička Republika

Južnoafrički savez

Kéyah Naakaii Łizhinii Bikéyah Shádi'ááhjí Si'ánígíí

Koonfur Afrika

Lafrik di Sid

Lâm-hui-kok

Lõuna-Aafrika Vabariik

Lõunõ-Afriga Vabariik

Lulli-Afrihká

Maadâ-Afrik

Mauling Aprika

Minami Afurika Kyōwakoku

Minamiafurika (kokumei)

Minamiafurikakyowakoku

Minamiafurikarenpo

Mo'hetaneho'e hánêsóvóne

Nàm-fî

Nan Fei

Nan Fei Gongheguo

Nanfei

Nanfei Gongheguo

nanfi'ogu'e

Nàng-hĭ

Nanzfeih

Natiq Apirikaq

Nonne-Afrike

Paankɔc Paguöt Apirïka

Pėitū Afrėkas Respoblėka

Pietų Afrikos Respublika

Pódpołdnjowa Afrika

Pôłniowô Afrika

Południowa Afryka

Qubla Afrika Respublikası

Repabliki ya Afrika-Borwa

Rephaboliki ya Aforika Borwa

Rephaboliki ya Afrika Borwa

Repubblica del Sud Africa

Repubilika ya Afelika ya Sudi

Republic of South Africa

República da Africa do Sul

República de Sudáfrica

República Sudafricana

Republiek van Suid-Afrika

Republik Südafrika

Republik Suedafrika

Republika Jugafrikane

Republika Južna Afrika

Republika kang Afrika Nabagatnan

Republika Połedńowyj Afriki

Republika Południowej Afryki

République d'Afrique du Sud

République sud-africaine

Riphabliki ya Afrika Dzonga

Riphabul̳iki ya Afurika Tshipembe

RSA

RSA (Republic of South Africa)

Salatan nga Apriká

Saot Afrika

Saujj-Afrikk

Saut Afrikaa

Saut Aprika

Sawdafirika

Siadafrika

Sidafríka

Soelí Afríká

Sooth Africae

Sør-Afrika

Sør-Afrikarepublikken

Sout Afrika

South Abĩrika

South Africa

South Africa. Government.

South African republic

South Aprika

Sowth Afreka

Suafrika

Süd Africa

Sud Afriche

Sud Afrika

Sud-Afriko

Sūðaffrica

Sudáfrica

Südafrika

Südafrikanische Republik

Suður-Afríka

Suðurafrika

Suid-Afrika

Sulüdafrikän

Sur Afrika

Sur na Aprika

Suráfrica

Suud-Afrikoa

Süüdafrika

Süüdafrikoo

Suvi Afriekku

Suviafrikan Tazovaldkund

Syd-Afrika

Sydafrika

Tafriqt n Wenẓul

Timog Aprika

Unie van Suid-Afrika

Union of South Africa

Union sud-africaine

Unión Sudafricana

Urin Aphrika

Üülen Afrika Respublikası

Worodugu Afrika

Yn Affrick Yiass

Yvyafrika

ZAR

Zuid-Afrika

Zuid-Afrikaansche Republiek

Zuud-Afrika

Νότια Αφρική

Аладатәи Африка

Африқои Ҷанубӣ

ЗIилбухе-Африкера Республика

Ипшъэ Африкэ Республикэ

Кăнтăр Африка Республики

Кечывалвел Африка

Къилба-Африкин Республика

Къыблэ Африкэ Республикэ

Къыбыла-Африкан Республика

Кьибле-Африкадин Республика

Көньяк Африка Җөмһүрияте

Көньяҡ Африка Республикаһы

Лембеёнксонь-Африкань Республикась

Лунвыв Африкаса Республика

Лымшор Африкаысь Республика

Лямбеширень Африконь Республик

Оңтүстік Африка Республикасы

Паўднёва-Афрыканская Рэспубліка

Південно-Африканська Республіка

Соҕуруу Африка

Түштүк-Африка Республикасы

Урда Африкын Улас

Хуссар Африкæ

ЮАР

Южна Африка

Южно-Африканская Республика

ЈАР

Јужноафричка Република

Өмн Априкин Орн

Өмнөд Африкийн Бүгд Найрамдах Улс

Հարավաֆրիկյան Հանրապետություն

Հարաւային Ափրիկէ

דרום אפריקה

דרום אפריקע

افريکا سلاتن

آفریقا ھارگە

آفریقای جنوبی

آپریکایی جنوبی

جمهورية جنوب إفريقيا

جنوب إفريقيا

جنوبی آفریخا

جنوبی افریقا

جٔنوٗبی اَفریٖقہ

جەنۇبىي ئافرىقا

دکھنی افریقہ

سویلي افریقا

ئەفریقای باشوور

ڏکڻ آفريڪا

گونئی آفریکا

ދެކުނު އެފްރިކާ

ߥߙߏ߬ߘߎ߯ ߝߘߊ߬ߝߌ߲߬ߠߊ

दक्खिन अफ़्रीका

दक्षिण-अफ्रीका

दक्षिण आफ्रिका

খা আফ্রিকা

দক্ষিণ আফ্রিকা

দক্ষিণ আফ্ৰিকা

ਦੱਖਣ ਅਫ਼ਰੀਕਾ

દક્ષિણ આફ્રિકા

ଦକ୍ଷିଣ ଆଫ୍ରିକା

தென்னாப்பிரிக்கா

దక్షిణ ఆఫ్రికా

ದಕ್ಷಿಣ ಆಫ್ರಿಕಾ

ദക്ഷിണാഫ്രിക്ക

දකුණු අප්‍රිකාව

ประเทศแอฟริกาใต้

ປະເທດແອຟຣິກາໃຕ້

ལྷོ་ཨ་ཧྥེ་རི་ཁ།

སའུཐ་ཨཕ་རི་ཀ་

တောင်အာဖရိကနိုင်ငံ

မိူင်းဢႃႇၾရိၵႃႉၸၢၼ်း

ობჟათე აფრიკაშ რესპუბლიკა

სამხრეთ აფრიკის რესპუბლიკა

남아공

남아프리카 공화국

ደቡብ አፍሪካ

ደቡብ ኣፍሪቃ

ᎤᎦᏃᏮᎬᎿᎨᏍᏛ

អាហ្វ្រិកខាងត្បូង

ᱠᱚᱧᱮ ᱟᱯᱷᱨᱤᱠᱟ

ミナミアフリカ (コクメイ)

ミナミアフリカキョウワコク

ミナミアフリカレンポウ

南アフリカ

南アフリカ (国名)

南アフリカ共和国

南アフリカ連邦

南非

南非共和國

ꯈꯥ ꯑꯐ꯭ꯔꯤꯀꯥ

𐍃𐌿𐌽𐌸𐍂𐌰 𐌰𐍆𐍂𐌹𐌺𐌰

Languages