McKenzie, Richard B.
Most widely held works about Richard B McKenzie
Most widely held works by Richard B McKenzie
Rethinking orphanages for the 21st century
by
Richard B McKenzie
( )
14 editions published between
1997
and 1999 in
English
and held by 1,525 WorldCat member libraries worldwide
With welfare reform at the top of the U.S. Congress agenda, the orphanage debate has resurfaced. While adoption is a solution for some children, many children are difficult to place or legally unavailable for permanent placement. Editor Richard B. McKenzie contends that the resurgence of private orphanages or children's homes will become a favorable option for those children. Rethinking Orphanages for the 21st Century reviews the policy reforms necessary for these homes to become reliable solutions for many of the nation's disadvantaged and abused children. McKenzie, who grew up in an orphanage in the 1950s, also includes the first and only large-scale survey of orphanage alumni, involving 1,600 respondents. Child welfare professionals, policymakers, sociologists, social workers, and family studies scholars will find this timely volume of great interest
In defense of monopoly : how market power fosters creative production
by
Richard B McKenzie
( )
18 editions published between
2007
and 2008 in
English
and held by 1,226 WorldCat member libraries worldwide
In Defense of Monopoly offers an unconventional but empirically grounded argument in favor of market monopolies. Authors McKenzie and Lee claim that conventional, static models exaggerate the harm done by real-world monopolies, and they show why some degree of monopoly presence is necessary to maximize the improvement of human welfare over time
Why popcorn costs so much at the movies : and other pricing puzzles
by
Richard B McKenzie
( Book )
31 editions published between
2008
and 2010 in
English
and
Chinese
and held by 1,114 WorldCat member libraries worldwide
Explains the mysteries of the current pricing system, such as the use of the number nine in prices, why all movies cost the same, and the unintentional consequences of using environmentally-friendly fuels
Managing through incentives : how to develop a more collaborative, productive, and profitable organization
by
Richard B McKenzie
( Book )
14 editions published in
1998
in
English
and held by 931 WorldCat member libraries worldwide
Richard McKenzie and Dwight Lee show how to select the right incentives and how to use them for the best results. Generously illustrated with examples from business, industry, government, academia, and professional sports, this volume offers a comprehensive overview of incentives, both in theory and in practice, providing a wealth of ideas managers can use to get employees to work harder, smarter, and more cooperatively
Trust on trial : how the Microsoft case is reframing the rules of competition
by
Richard B McKenzie
( Book )
15 editions published between
2000
and 2001 in
English
and
Russian
and held by 827 WorldCat member libraries worldwide
"[A]rgues that government trust busters don't have a clue about how to effectively referee competition in today's industries that live or die at the caprice of innovation"--Jacket
Predictably rational? : in search of defenses for rational behavior in economics
by
Richard B McKenzie
( )
22 editions published between
2009
and 2010 in
English
and
German
and held by 611 WorldCat member libraries worldwide
Mainstream economists everywhere exhibit an "irrational passion for dispassionate rationality." Behavioral economists, and long-time critic of mainstream economics suggests that people in mainstrean economic models "can think like Albert Einstein, store as much memory as IBM's Big Blue, and exercise the will power of Mahatma Gandhi," with a view that economists' view of homo sapiens is simply wrongheaded. Indeed, Thaler and other behavioral economists and psychology have documented a variety of ways in which real-world people fall far short of mainstream economists' idealized economic actor, perfectly rational homo economicus. Behavioral economist Daniel Ariely has concluded that real-world people not only exhibit an array of decision-making frailties and biases, they are "predictably irrational," a position now shared by so many behavioral economists, psychologists, sociologists, and evolutionary biologists that a defense of the core rationality premise of modedrn economics is demanded. In Predictably Rational? In Search of Defenses of Rational Behavior in Economics, Richard McKenzie, a professor of economics and management at the University of California, Irvine, takes up the challenge to defend mainstream economics' core premise, but in unexpected ways. He first takes readers through a review of the intellectual history of the motivational premise undergirding economics from Adam Smith through to Alfred Marshall to Frank Knight, Ludwig von Mises, and Friedrich Hayek to Milton Friedman, George Stigler, and Gary becker. Professor McKenzie finds ample criticisms of the rationality premise within the intellectual history of the discipline. He also surveys the relevant literature in evolutionary biology and neurobiology and neujroeconomics, which fortifies the behavioralists' criticisms that "perfect rationality" is not tenable. Nonetheless, in spite of the evidence and arguments, Professor Mckenzie mounts defenses of continued use of the rationality premise on counterintuitive grounds, not the least of which is that the demonstrated "irrationalities" in human decision makes all the more compelling the use of the perfect rationality premise in economics. Economists are themselves drawm from the human population. They must operate within their own limited and mistake-prone mental faculities. The premise of rationality is one means by which economists can gain insights about complex human interactions that might not exscape them if they assume people were not more rational than economists know them to be. In addition, economists' perfect rationality premise is not only a means for deriving testable hypotheses, it is also a standard by which economists, and their students, can derive heuristics that can lead to improved decision making (or decision making that is better than might be expected of real-world people without instruction in the "economic way of thinking"). Professor McKenzie draws conclusions that are at odds with standard, mainstream economics, not the least of which is that markets do more to improve economic efficiency than conventional microeconomics supposes. Markets not only allocate efficiently known resources among known wants. They also provide feedback mechanisms that the human brain needs to operate more efficiently and that improve decision making, as well as hone people's wants and appreciation of resources. Markets can make people more rational than they may be inclined to be. Richard McKenzie is the Walter B. Gerken Professor of Enterprise and Society in the Paul Merage School of Business at the University of California, Irvine. Widely published in academic journals and general audience publications, his two most recent books are In Defense of Monopoly: How Market Power Fosters Creative Production (University of Michigan Press, 2008) and Why Popcorn Costs so Much at the Movies, And Other Pricing Puzzles (Springer, 2008) (www.merage.uci.edu/m̃ckenzie)
more
fewer
Audience Level
0

1
Kids
General
Special
Audience level: 0.36 (from 0.03 for Rethinking ... to 0.77 for Plant clos ...)
Related Identities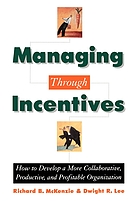 Covers
Alternative Names
Bunn MacKenzie, Richard 1942-

Bunn McKenzie, Richard 1942-

Mac Kenzie, Richard B.

Mac Kenzie Richard B. 1942-....

MacKenzie, R

MacKenzie, Richard B.

MacKenzie Richard B. 1942-....

MacKenzie, Richard Bunn 1942-

Mc Kenzie, Richard B.

Mc Kenzie Richard B. 1942-....

McKenzie, R

McKenzie, R. B. 1942-

McKenzie, Ricahrd B.

McKenzie, Richard 1942-

McKenzie, Richard B.

McKenzie, Richard Bunn 1942-

맥켄지, 리차드 1942-

맥켄지, 리처드 1942-

맥킨지, 리차드 1942-

맥킨지, 리처드 1942-

マッケンジー, R

Languages