Guelzo, Allen C.
Most widely held works about Allen C Guelzo
Most widely held works by Allen C Guelzo
Lincoln : a very short introduction
by
Allen C Guelzo
( )
16 editions published between
2009
and 2015 in
English
and
Thai
and held by 2,286 WorldCat member libraries worldwide
"Abraham Lincoln was a fatalist who promoted freedom; he was a classical liberal who couched liberalism's greatest deed - emancipation of the slaves - in the unliberal language of divine providence; he was a religious doubter who became a national icon bordering on religion; and he was a rights-oriented liberal who appealed to natural law when confronting slavery"--Provided by publisher
Gettysburg : the last invasion
by
Allen C Guelzo
( Book )
19 editions published between
2013
and 2020 in
English
and
Spanish
and held by 2,129 WorldCat member libraries worldwide
Though the Battle of Gettysburg has been written about at length and thoroughly dissected in terms of strategic importance, never before has a book dived down so closely to the individual soldier to explore the experience of the three days of intense fighting for the people involved, or looked so closely at the way politics swayed military decisions, or placed the battle in the context of nineteenth-century military practice. Guelzo shows us the face, the sights and sounds of nineteenth-century combat: the stone walls and gunpowder clouds of Pickett's Charge; the reason that the Army of Northern Virginia could be smelled before it could be seen; the march of thousands of men from the banks of the Rappahannock in Virginia to the Pennsylvania hills. What emerges is a previously untold story: from the personal politics roiling the Union and Confederate officer ranks, to the peculiar character of artillery units. Through such scrutiny the cornerstone battle of the Civil War is given extraordinarily vivid new life
Abraham Lincoln as a man of ideas
by
Allen C Guelzo
( )
12 editions published between
2009
and 2017 in
English
and held by 2,006 WorldCat member libraries worldwide
"Abraham Lincoln was a skilled politician, an inspirational leader, and a man of humor and pathos. What many may not realize is how much he was also a man of ideas. Despite the most meager of formal educations, Lincoln's tremendous intellectual curiosity drove him into the circle of Enlightenment philosophy and democratic political ideology. And from these, Lincoln developed a set of political convictions that guided him throughout his life and his presidency. Abraham Lincoln as a Man of Ideas, a compilation of ten essays from Lincoln scholar, Allen C. Guelzo, uncovers the hidden sources of Lincoln's ideas and examines the beliefs that directed his career and brought an end to slavery and the Civil War. These essays reveal Lincoln to be a man of impressive intellectual probity and depth as well as a man of great contradictions. He was an apostle of freedom who did not believe in human free will; a champion of the Constitution who had to step outside of it in order to save it; a man of many acquaintances and admirers, but few friends; a man who opposed slavery but also opposed the abolition of it; a man of prudence who took more political risks than any other president. Guelzo explores the many faces of Lincoln's ideas, and especially the influence of the Founding Fathers and the great European champions of democracy. And he links the 16th president's struggles with the issues of race, emancipation, religion, and civil liberties to the challenges these issues continue to offer to Americans today. Lincoln played many roles in his life - lawyer, politician, president - but in each he was driven by a core of values, convictions, and beliefs about economics, society, and democracy. Abraham Lincoln as a Man of Ideas is a broad and exciting survey of the ideas that made Lincoln great, just as we celebrate the bicentennial his birth."--Jacket
Lincoln and Douglas : the debates that defined America
by
Allen C Guelzo
( Book )
17 editions published between
2008
and 2014 in
English
and held by 1,935 WorldCat member libraries worldwide
What carried this one-term congressman from obscurity to fame was his Senate campaign against the country's most formidable politician, Stephen A. Douglas, in the summer and fall of 1858. Lincoln challenged Douglas directly in one of his greatest speeches--"A house divided against itself cannot stand"--And confronted Douglas on the questions of slavery and the inviolability of the Union in seven fierce debates. Of course, the great issue was slavery. Douglas was the champion of letting states and territories decide for themselves whether to legalize slavery. Lincoln drew a moral line, arguing that no majority could ever make slavery right. Lincoln lost that Senate race to Douglas, though he came close to toppling the "Little Giant," but he emerged a predominant national figure. Guelzo's book brings alive their debates and this whole year of campaigns, and underscores their centrality in the greatest conflict in American history.--From publisher description
Lincoln's Emancipation Proclamation : the end of slavery in America
by
Allen C Guelzo
( Book )
17 editions published between
2004
and 2006 in
English
and held by 1,913 WorldCat member libraries worldwide
"I do order and declare that all persons held as slaves ... are, and henceforward shall be free ..." No other words in American history changed the lives of so many Americans as this declaration from Abraham Lincoln's Emancipation Proclamation. Born in the struggle of Lincoln's determination to set slavery on the path to destruction, it has remained a document of struggle. What were Lincoln's real intentions? The author presents, for the first time, a full scale study of Lincoln's greatest state paper. Using unpublished letters and documents, little-known accounts from Civil War-era newspapers, and Congressional memoirs and correspondence, the author tells the story of the complicated web of statesmen, judges, slaves, and soldiers who accompanied, and obstructed, Abraham Lincoln on the path to the Proclamation. The crisis of a White House at war, of plots in Congress and mutiny in the Army, of one man's will to turn the nation's face toward freedom--all these passionate events come alive in a powerful narrative of Lincoln's, and the Civil War's, greatest moment
Fateful lightning : a new history of the Civil War & Reconstruction
by
Allen C Guelzo
( )
18 editions published between
2011
and 2012 in
English
and held by 1,756 WorldCat member libraries worldwide
A comprehensive look at the Civil War and how it shaped American history and culture; includes coverage of major figures and the war's effect on politics, religion, gender, race, diplomacy, and technology
Abraham Lincoln : redeemer President
by
Allen C Guelzo
( Book )
15 editions published between
1999
and 2003 in
English
and held by 1,387 WorldCat member libraries worldwide
"More has been written about Abraham Lincoln than about any other American. Yet very little of this literature sees Lincoln as he was in his times - as a man of ideas, as a man of deep intellectual curiosity about the raging political and economic debates in nineteenth-century America, and as a textbook Victorian "doubter" who could not believe as an orthodox Christian yet could not be easy in his unbelief. This truly fresh look at the nation's sixteenth president offers the first "intellectual biography" of a man whose grasp of the powerful currents of religion, philosophy, and political economy shaped not only the outcome of a great civil war but also the outlines of American national development for the following generation."--Jacket
Redeeming the great emancipator
by
Allen C Guelzo
( )
8 editions published in
2016
in
English
and held by 1,223 WorldCat member libraries worldwide
The larger-than-life image Abraham Lincoln projects across the screen of American history owes much to his role as the Great Emancipator during the Civil War. Yet this noble aspect of Lincoln's identity is precisely the dimension that some historians have cast into doubt. In a vigorous defense of America's sixteenth president, award-winning historian and Lincoln scholar Allen Guelzo refutes accusations of Lincoln's racism and political opportunism, while candidly probing the follies of contemporary cynicism and the constraints of today's unexamined faith in the liberating powers of individual autonomy. Redeeming the Great Emancipator enumerates Lincoln's anti-slavery credentials, showing that a deeply held belief in the God-given rights of all people steeled the president in his commitment to emancipation and his hope for racial reconciliation. Emancipation did not achieve complete freedom for American slaves, nor was Lincoln entirely above some of the racial prejudices of his time. Nevertheless, his conscience and moral convictions far outweighed political calculations in ultimately securing freedom for black Americans. Guelzo clarifies the historical record concerning what the Emancipation Proclamation did and did not accomplish. As a policy it was imperfect, but it was far from ineffectual, as some accounts of African American self-emancipation imply. To achieve liberation required interdependence across barriers of race and status. If we fail to recognize our debt to the sacrifices and ingenuity of all the brave men and women of the past, Guelzo says, then we deny a precious part of the American and, indeed, the human community
Reconstruction : a concise history
by
Allen C Guelzo
( Book )
8 editions published between
2018
and 2020 in
English
and held by 565 WorldCat member libraries worldwide
"This concise history delves into the constitutional, political, and social issues behind Reconstruction to provide a lucid and original account of a historical moment that left an indelible mark on American social fabric. [The author] depicts Reconstruction as a "bourgeois revolution"--As the attempted extension of the free-labor ideology embodied by Lincoln and the Republican Party to what was perceived as a Southern region gone awry from the Founders' intention in the pursuit of Romantic aristocracy"--
more
fewer
Audience Level
0

1
Kids
General
Special
Audience level: 0.17 (from 0.03 for Gettysburg ... to 0.50 for Accepting ...)
Associated Subjects
Anglican Communion
Calvinism
Confederate States of America.--Army.--Pickett's Division
Confederate States of America.--Army of Northern Virginia
Congregational churches--Doctrines
Current, Richard Nelson
Discoveries in geography
Douglas, Stephen A.--(Stephen Arnold),
Edwards, Jonathan,
Emancipation Proclamation (United States. President (1861-1865 : Lincoln))
Episcopal Church
Evangelicalism
Evangelicalism and Christian union
Evangelicalism--Episcopal Church
Franklin, John Hope,
Guelzo, Allen C
Historians
History
Illinois
Influence (Literary, artistic, etc.)
Intellectual life
Interfaith relations
Liberty--Religious aspects--Christianity--History of doctrines
Liberty--Religious aspects--History of doctrines
Lincoln, Abraham,
McPherson, James M
Military campaigns
New Divinity theology
New England
New England theology
Pennsylvania
Pennsylvania--Gettysburg
Philosophy
Political and social views
Politics and government
Presidents
Race relations
Reconstruction (U.S. history, 1865-1877)
Reformed Episcopal Church
Religion
Schweninger, Loren
Slavery
Slaves--Emancipation
Social conflict
Southern States
Theology
United States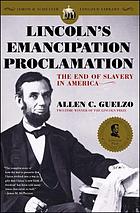 Covers
Alternative Names
Allen C. Guelzo Amerikaans historicus

Allen C. Guelzo historiador estadounidense

Allen C. Guelzo historiador norte-americano

Allen C. Guelzo historian amerikan

Allen Carl Guelzo

Allen Carl Guelzo historiador estatunidenc

Allen Carl Guelzo historien américain

Allen Carl Guelzo storico statunitense

C. Guelzo, Allen, 1953-

Carl Guelzo, Allen, 1953-

Guelzo, Allen.

Guelzo, Allen 1953-

Guelzo, Allen Carl.

Guelzo, Allen Carl 1953-

الين سى جيلزو مؤرخ من امريكا

艾伦·归尔佐

Languages