Council on Foreign Relations
Most widely held works about Council on Foreign Relations
more
fewer
Most widely held works by Council on Foreign Relations
Foreign affairs
( )
in
English
and
English, Old
and held by 4,710 WorldCat member libraries worldwide
Electronic journal provided by The Council on Foreign Relations on international politics and other issues
Restoring the balance : a Middle East strategy for the next president
by
Richard Haass
( )
11 editions published in
2008
in
English
and held by 2,042 WorldCat member libraries worldwide
"Experts from the Brookings Saban Center and Council on Foreign Relations propose a new, nonpartisan strategy drawing on the lessons of past failures to address short-term and long-term challenges to U.S. interests. Issues and policy recommendations cover the Arab-Israeli conflict, counterterrorism, Iran, Iraq, political and economic development, and nuclear proliferation"--Provided by publisher
Political handbook of the world
by N.Y.) Political handbook of the world (New York
( )
in
English
and held by 1,864 WorldCat member libraries worldwide
The one-stop source for essential facts and analysis that illuminate every country's governmental and political status, composition and history
Congress and national security
by
Kay King
( )
9 editions published in
2010
in
English
and held by 1,588 WorldCat member libraries worldwide
In this report, the author explores the political and institutional changes that have contributed to congressional gridlock and examines their consequences for foreign policy making. Some of these developments, she notes, are national trends that have developed over a number of decades. Successive redistricting efforts, for example, have all but eliminated interparty competition in some House districts, leaving the real competition to the primaries and the most ideologically driven voters. King further notes that the rising cost of elections has increased the time devoted to fundraising at the expense of substantive priorities, and the twenty-four hour news cycle has decreased the time and incentive for reflective debate. More subtle, but equally important, institutional changes have likewise diminished Congress's effectiveness. A decline in committee chairmen's authority and expertise, tighter control over voting by party leaders, and the relaxation of traditional customs limiting the use of procedural tools to practical ends have all, led to a breakdown in comity. The consequences highlighted are both broad and significant, from delayed presidential appointments to a poorly coordinated budget process for critical foreign policy areas such as intelligence, diplomacy, and development
The new Arab revolt
by
Council on Foreign Relations
( )
11 editions published in
2011
in
English
and held by 1,580 WorldCat member libraries worldwide
The New Arab Revolt: What Happened, What It Means, and What Comes Next sets the intellectual stage for understanding the revolutions in the Middle East
Somalia : a new approach
by
Bronwyn E Bruton
( )
9 editions published in
2010
in
English
and held by 1,565 WorldCat member libraries worldwide
"Even among failed states-- those countries unable to exercise authority over their territory and provide the most basic services to their people-- Somalia stands apart. A country of some nine million, it has lacked a central government since the fall of Mohamed Siad Barre's regime in 1991. Poverty and insecurity are endemic. Less than 40 percent of Somalis are literate, more than one in ten children dies before turning five, and a person born in Somalia today cannot assume with any confidence that he or she will reach the age of fifty. Failed states provide fertile ground for terrorism, drug trafficking, and a host of other ills that threaten to spill beyond their borders. Somalia is thus a problem not just for Somalis but for the United States and the world. In particular, the specter of Somalia's providing a sanctuary for al-Qaeda has become an important concern, and piracy off Somalia's coast, which affects vital international shipping lanes, remains a menace. In this report, Bronwyn E. Bruton proposes a strategy to combat terrorism and promote development and stability in Somalia. She first outlines the recent political history involving the Transitional Federal Government (TFG) formed in 2004 and its Islamist opponents, chiefly the Shabaab, which has declared allegiance to al-Qaeda. She then analyzes U.S. interests in the country, including counterterrorism, piracy, and humanitarian concerns, as well as the prospect of broader regional instability."--Page vii
Global Brazil and U.S.-Brazil relations
by
Council on Foreign Relations
( )
12 editions published in
2011
in
English
and held by 1,559 WorldCat member libraries worldwide
Brazil has emerged as both a driver of growth in South America and an active force in world politics in the decade since the Council on Foreign Relations (CFR) convened its first Independent Task Force on the country. During this period, Brazil has lifted nearly thirty million of its citizens out of poverty, significantly expanded its middle class, become increasingly active within multilateral institutions and international forums, and weathered the recent worldwide recession -- all in a peaceful, market-oriented, and democratic context. To be sure, Brazil is still contending with important internal concerns -- its remaining poor, the growing challenges of climate change, and its ongoing transformation from a commodity-based to an industrial economy, to name just a few. Nevertheless, the message of this report could hardly be clearer: Brazil matters not just regionally but globally. Its decisions and actions will affect the world's economy, environment, and energy future as well as prospects for diplomacy and stability. Brazil is on the short list of countries that will most shape the twenty-first century. U.S. and Brazilian foreign policy must adjust accordingly
U.S. Trade and Investment Policy
by
Council on Foreign Relations
( )
7 editions published in
2011
in
English
and held by 1,500 WorldCat member libraries worldwide
One of the most effective ways to create good new jobs and reverse the income decline of the past decade is for the United States to "become a thriving trading nation," concludes a Council on Foreign Relations (CFR)-sponsored Independent Task Force report on U.S. Trade and Investment Policy. The report calls for the Obama administration and Congress to "adopt a pro-America trade policy that brings to more Americans more of the benefits of global engagement, within the framework of a strengthened, rules-based trading system." The growth of global trade and investment has brought significant benefits to the United States and to the rest of the world. But U.S. leadership on international trade has waned in recent years because of deep domestic political divisions over trade policy that arise largely from the very real economic difficulties too many Americans face, acknowledges the Task Force. The Task Force warns that the political stalemate "has already harmed U.S. interests and will do more if it remains unresolved. Unless the United States develops and sustains a trade policy that yields greater benefits for Americans in job and wage growth, it will be difficult to build the political consensus needed to move forward," says the report
The Russian economic crisis
by
Jeffrey Mankoff
( )
6 editions published in
2010
in
English
and held by 1,479 WorldCat member libraries worldwide
"This US report argues that Russia's economic crisis presents an opportunity to deepen American and European economic ties with Russia and integrate the country more firmly in the international system, something that could, over time, bring Russian and Western interests closer together."
Justice beyond The Hague : supporting the prosecution of international crimes in national courts
by
David Kaye
( )
8 editions published in
2011
in
English
and held by 1,472 WorldCat member libraries worldwide
When the International Criminal Tribunal for the former Yugoslavia (ICTY) was established more than twenty years ago, the international community had little experience prosecuting the perpetrators of genocide, war crimes, and other atrocities. Unfortunately, there has been ample opportunity to build expertise in the intervening decades; ad hoc tribunals have been established to address past crimes in Cambodia and Sierra Leone, and a formal International Criminal Tribunal for Rwanda (ICTR) was convened in the aftermath of Rwanda's 1994 genocide. Since 2002, the International Criminal Court (ICC) has assumed responsibility for new prosecutions, pursuing war criminals in countries unable or unwilling to bring them to justice domestically. Yet, after more than two decades of experience, the limits of these courts' capabilities are becoming clear. While they have brought some senior leaders to justice, the scope of the courts' budgets and their enquiries can never reach all -- or even most -- perpetrators of atrocities. They are physically far removed from the scenes of the crimes they are prosecuting, cannot compel evidence or conduct independent investigations, and are vulnerable to changes in funding and international political support. This book provides important insights into the strengths and limitations of current international justice mechanisms. It makes a clear case for increasing support to national legal systems and outlines a variety of ways that the U.S. government can improve and coordinate its aid with others. While there will always be a place for international courts in countries that cannot or will not prosecute perpetrators themselves, this report successfully argues that domestic systems can and should play a more meaningful role
more
fewer
Audience Level
0

1
Kids
General
Special
Audience level: 0.15 (from 0.01 for Annual rep ... to 0.63 for The Counci ...)
Related Identities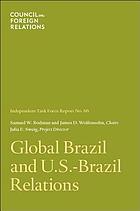 Covers
Alternative Names
American institute of international affairs

Beikoku Gaikō Kyōkai

C.F.R.

C.F.R. (Council on Foreign Relations)

CFR

CFR (Council on Foreign Relations)

Consiliul pentru Relații Externe

Council of Foreign Relations

Council on Foreign Relations

Council on Foreign Relations denktank in de Verenigde Staten

Council on Foreign Relations es una organización estadounidense sin ánimo de lucro especializada en política exterior.

Council on Foreign Relations, Inc.

Council on Foreign Relations Privates Institut für auswärtige Beziehungen

Council on Foreign Relations think tank (groupe de réflexion, laboratoire d'idées) américain

Council on Foreign Relations (U.S.)

Dewan Hubungan Internasional

Dış İlişkiler Konseyi Düşünce kuruluşu

Gaikō Mondai Hyōgikai

Hội đồng Quan hệ đối ngoại

Konsilio pri Eksterlandaj Rilatoj usona pensfabriko

Majlis Hubungan Luar Negeri

Mei guo wai jiao guan xi xie hui

Meiguo-Waijiao-Guanxi-Xiehui

Rada Polityki Zagranicznej.

Rada pro mezinárodní vztahy

Samtök um alþjóðasamskipti

Savet za inostrane odnose

Рада з міжнародних відносин

Савет за иностране односе

Савет па міжнародных адносінах

Совет по международным отношениям

Тĕнчери хутшăнусен канашĕ

Халықаралық қатынастар жөнiндегiкеңес

המועצה לקשרי חוץ

شورای روابط خارجی

مجلس العلاقات الخارجية خلية تفكير متخصصة في السياسة الخارجية للولايات المتحدة والعلاقات الدولية

विदेश संबंध परिषद

কাউন্সিল অন ফরেন রিলেশন্স

외교협회

ガイコウ モンダイ ヒョウギカイ

外交問題評議会

外交問題評議会 アメリカ合衆国の外交政策と国際情勢を専門とするシンクタンク

米国外交協会

美國外交關係協會

美国对外关系委员会 美国智库

Languages