Stoler, Ann Laura
Most widely held works by Ann Laura Stoler
Tensions of empire : colonial cultures in a bourgeois world
by
Frederick Cooper
( )
28 editions published between
1997
and 2009 in
English
and held by 2,371 WorldCat member libraries worldwide
Starting with the premise that Europe was made by its imperial projects as much as colonial encounters were shaped by events and conflicts in Europe, the contributors to Tensions of Empire investigate metropolitan-colonial relationships from a new perspective. The fifteen essays demonstrate various ways in which "civilizing missions" in both metropolis and colony provided new sites for clarifying a bourgeois order. Focusing on the eighteenth, nineteenth, and early twentieth centuries, they show how new definitions of modernity and welfare were developed and how new discourses and practices of inclusion and exclusion were contested and worked out. The contributors argue that colonial studies can no longer be confined to the units of analysis on which it once relied; instead of being the study of "the colonized," it must account for the shifting political terrain on which the very categories of colonized and colonizer have been shaped and patterned at different times
Carnal knowledge and imperial power : race and the intimate in colonial rule
by
Ann Laura Stoler
( Book )
25 editions published between
2002
and 2010 in
English
and
Undetermined
and held by 1,176 WorldCat member libraries worldwide
"Why, Ann Laura Stoler asks, was the management of sexual arrangements and affective attachments so critical to the making of colonial categories and to what distinguished ruler from ruled? Contending that social classification is not a benign cultural act but a potent political one, Stoler shows that matters of the intimate were absolutely central to imperial politics. It was, after all, in the intimate sphere of home and servants that European children learned what they were required to learn of place and race. Gender-specific sexual sanctions, too, were squarely at the heart of imperial rule, and European supremacy was asserted in terms of national and racial virility. Stoler looks discerningly at the way cultural competencies and sensibilities entered into the construction of race in the colonial context and proposes that "cultural racism" in fact predates its postmodern discovery. Her acute analysis of colonial Indonesian society in the late nineteenth and early twentieth centuries yields insights that translate to a global, comparative perspective."--Amazon.com
Race and the education of desire : Foucault's History of sexuality and the colonial order of things
by
Ann Laura Stoler
( Book )
34 editions published between
1985
and 2012 in
English
and held by 893 WorldCat member libraries worldwide
Michel Foucault's History of Sexuality has been one of the most influential books of the last two decades. It has had an enormous impact on cultural studies and work across many disciplines on gender, sexuality, and the body. Bringing a new set of questions to this key work, Ann Laura Stoler examines volume one of History of Sexuality in an unexplored light. She asks why there has been such a muted engagement with this work among students of colonialism for whom issues of sexuality and power are so essential. Why is the colonial context absent from Foucault's history of a European sexual discourse that for him defined the bourgeois self? In Race and the Education of Desire, Stoler challenges Foucault's tunnel vision of the West and his marginalization of empire. She also argues that this first volume of History of Sexuality contains a suggestive if not studied treatment of race. Drawing on Foucault's little-known 1976 College de France lectures, Stoler addresses his treatment of the relationship between biopower, bourgeois sexuality, and what he identified as racisms of the state. In this critical and historically grounded analysis based on cultural theory and her own extensive research in Dutch and French colonial archives, Stoler suggests how Foucault's insights have in the past constrained -- and in the future may help shape -- the ways we trace the genealogies of race. Race and the Education of Desire will revise current notions of the connections between European and colonial historiography and between the European bourgeois order and the colonial treatment of sexuality. Arguing that a history of European nineteenth-century sexuality must also be a history of race, it will change the way we think about Foucault." from http://search.barnesandnoble.com (Jan. 25, 2011.)
Along the archival grain : epistemic anxieties and colonial common sense
by
Ann Laura Stoler
( )
21 editions published between
2008
and 2010 in
English
and
Undetermined
and held by 884 WorldCat member libraries worldwide
'Along the Archival Grain' examines the nature of colonial governance as seen through its archival habits and conventions, and in doing so offers a series of nuanced meditations on the nature of archives and the spirit with which students of empire should approach them
Haunted by empire : geographies of intimacy in North American history
( Book )
17 editions published between
2006
and 2007 in
English
and held by 697 WorldCat member libraries worldwide
"A milestone in U.S. historiography, Haunted by Empire brings postcolonial critiques to bear on North American history and draws on that history to question the analytic conventions of postcolonial studies. The contributors to this innovative collection examine the critical role of "domains of the intimate" in the consolidation of colonial power. They demonstrate how the categories of difference underlying colonialism -- the distinctions advanced as the justification for the colonizer's rule of the colonized -- were enacted and reinforced in intimate realms from the bedroom to the classroom to the medical examining room. Together the essays focus attention on the politics of comparison -- on how colonizers differentiated one group or set of behaviors from another -- and on the circulation of knowledge and ideologies within and between imperial projects. Ultimately, this collection forces a rethinking of what historians choose to compare and of the epistemological grounds on which those choices are based. Haunted by Empire includes Ann Laura Stoler's seminal essay "Tense and Tender Ties" as well as her bold introduction, which carves out the exciting new analytic and methodological ground animated by this comparative venture. The contributors engage in a lively cross-disciplinary conversation, drawing on history, anthropology, literature, philosophy, and public health. They address such topics as the regulation of Hindu marriages and gay sexuality in the early-twentieth-century United States; the framing of multiple-choice intelligence tests; the deeply entangled histories of Asian, African, and native peoples in the Americas; the racial categorizations used in the 1890 U.S. census; and the politics of race and space in French colonial New Orleans. Linda Gordon, Catherine Hall, and Nancy F. Cott each provide a concluding essay reflecting on the innovations and implications of the arguments advanced in Haunted by Empire."--Page 4 of cover
Capitalism and confrontation in Sumatra's plantation belt, 1870-1979
by
Ann Laura Stoler
( Book )
13 editions published between
1985
and 2008 in
English
and
Undetermined
and held by 543 WorldCat member libraries worldwide
Over the last century, North Sumatra has been the site of one of the most intensive and successful pursuits of foreign agricultural enterprise of any developing country. Colonial expansion by Europeans resulted in overt--sometimes violent-- conflict between capital and labor, as workers resisted plantation interests. Capitalism and Confrontation in Sumatra's Plantation Belt, 1870-1979 is a fascinating ethnographic history that analyzes how popular resistance actively molded both the form of colonialism and the social, economic, and political experience of the Javanese laboring communities on Sumatra's plantation borders.--
Political concepts : a critical lexicon
by
Adi Ophir
( )
10 editions published between
2017
and 2018 in
English
and held by 536 WorldCat member libraries worldwide
Deciding what is and what is not political is a fraught, perhaps intractably opaque matter. Just who decides the question; on what grounds; to what ends- these seem like properly political questions themselves. Deciding what is political and what is not can serve to contain and restrain struggles, make existing power relations at once self-evident and opaque, and blur the possibility of reimagining them differently. Political Concepts seeks to revive our common political vocabulary - both everyday and academic -and to do so critically. Its entries take the form of essays in which each contributor presents her or his own original reflection on a concept posed in the traditional Socratic question format "What is X?" and asks what sort of work a rethinking of that concept can do for us now. The explicitness of a radical questioning of this kind gives authors both the freedom and the authority to engage, intervene in, critique, and transform the conceptual terrain they have inherited. Each entry, either implicitly or explicitly, attempts to re-open the question "What is political thinking?" Each is an effort to reinvent political writing. In this setting the political as such may be understood as a property, a field of interest, a dimension of human existence, a set of practices, or a kind of event. Political Concepts does not stand upon a decided concept of the political but returns in practice and in concern to the question "What is the political?" by submitting the question to a field of plural contention. --
Imperial debris : on ruins and ruination
by
Ann Laura Stoler
( Book )
13 editions published in
2013
in
English
and held by 532 WorldCat member libraries worldwide
"Imperial Debris redirects critical focus from ruins as evidence of the past to "ruination" as the processes through which imperial power occupies the present. Ann Laura Stoler's introduction is a manifesto, a compelling call for postcolonial studies to expand its analytical scope to address the toxic but less perceptible corrosions and violent accruals of colonial aftermaths, as well as their durable traces on the material environment and people's bodies and minds. In their provocative, tightly focused responses to Stoler, the contributors explore subjects as seemingly diverse as villages submerged during the building of a massive dam in southern India, Palestinian children taught to envision and document ancestral homes razed by the Israeli military, and survival on the toxic edges of oil refineries and amid the remains of apartheid in Durban, South Africa. They consider the significance of Cold War imagery of a United States decimated by nuclear blast, perceptions of a swath of Argentina's Gran Chaco as a barbarous void, and the enduring resonance, in contemporary sexual violence, of atrocities in King Leopold's Congo. Reflecting on the physical destruction of Sri Lanka, on Detroit as a colonial metropole in relation to sites of ruination in the Amazon, and on interactions near a UNESCO World Heritage Site in the Brazilian state of Bahia, the contributors attend to present-day harms in the occluded, unexpected sites and situations where earlier imperial formations persist."--Publisher's description
Duress : imperial durabilities in our times
by
Ann Laura Stoler
( Book )
12 editions published in
2016
in
English
and held by 429 WorldCat member libraries worldwide
How do colonial histories matter to the urgencies and conditions of our current world? How have those histories so often been rendered as leftovers, as "legacies" of a dead past rather than as active and violating forces in the world today? With precision and clarity, Ann Laura Stoler argues that recognizing "colonial presence" may have as much to do with how the connections between colonial histories and the present are expected to look as it does with how they are expected to be. In Duress, Stoler considers what methodological renovations might serve to write histories that yield neither to smooth continuities nor to abrupt epochal breaks. Capturing the uneven, recursive qualities of the visions and practices that imperial formations have animated, Stoler works through a set of conceptual and concrete reconsiderations that locate the political effects and practices that imperial projects produce: occluded histories, gradated sovereignties, affective security regimes, "new" racisms, bodily exposures, active debris, and carceral archipelagos of colony and camp that carve out the distribution of inequities and deep fault lines of duress today
Imperial formations
( Book )
11 editions published in
2007
in
English
and held by 361 WorldCat member libraries worldwide
"The contributors to this volume critique and abandon the limiting assumption that the European colonialism of the late nineteenth and early twentieth centuries can be taken as the representative form of imperialism. Recasting the study of imperial governance, forms of sovereignty, and the imperial state, the authors pay close attention to non-European empires and the active trade in ideas, practices, and technologies among empires, as well as between metropolitan regions and far-flung colonies. The Ottoman, Russian, Chinese, Spanish, and Japanese empires provide provocative case studies that challenge the temporal and conceptual framework within which colonial studies usually operates. Was the Soviet Union an empire or a nation-state? What of Tibet, only recently colonized but long engaged with several imperial powers? Imperial Formations alters our understanding of past empires the better to understand the way that complex history shapes the politics of the present imperial juncture."--Back cover
more
fewer
Audience Level
0

1
Kids
General
Special
Audience level: 0.39 (from 0.09 for Tensions o ... to 0.92 for Imperial m ...)
Related Identities
Associated Subjects
Agricultural laborers
Agricultural laborers--Political activity
Agriculture
Archives
Balibar, Étienne,
Colonial administrators
Colonies
Colonies--Administration
Decolonization
Economic anthropology
Eurocentrism
Europe
Foucault, Michel,
Histoire de la sexualité (Foucault, Michel)
Historiography
History, Modern
Imperialism
Imperialism--Historiography
Indigenous peoples
Indonesia
Indonesia--Sumatra
Influence (Literary, artistic, etc.)
Intimacy (Psychology)--Political aspects
Netherlands
Orientalism
Philosophy
Philosophy, French
Philosophy, Marxist
Plantations
Political and social views
Political science--Philosophy
Politics and government
Postcolonialism
Postcolonialism--Historiography
Postcolonialism--Social aspects
Race discrimination
Race relations
Racism
Rural conditions
Sex customs
Social conflict
Social Darwinism
Social policy
Social sciences
United States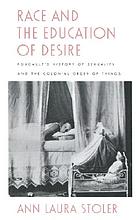 Covers
Alternative Names
Ann Laura Stoler American anthropologist

Ann Laura Stoler anthropologue américaine

Ann Laura Stoler antropóloga estadounidense

Ann Laura Stoler antropòloga estatunidenca

Ann Laura Stoler antropóloga estauxunidense

Ann Laura Stoler antropóloga norte-americana

Ann Laura Stoler antropologa statunitense

Stoler, A.L. 1949-

Stoler, Ann.

Stoler, Ann L. 1949-

Stoler, Anne L. 1949-

ストーラー, アン・ローラ

Languages