Cutler, David M.
Most widely held works by David M Cutler
Your money or your life : strong medicine for America's health care system
by
David M Cutler
( )
17 editions published between
2004
and 2007 in
English
and held by 2,695 WorldCat member libraries worldwide
"The problems of medical care confront us daily : a bureaucracy that makes a trip to the doctor worse than a trip to the dentist, doctors who can't practice medicine the way they choose, more than 40 million people without health insurance. "Medical care is in crisis," we are repeatedly told, and so it is. Barely one of five Americans thinks the medical system works well." "Enter David M. Cutler, a Harvard economist who served on President Clinton's health care task force and later advised presidential candidate Bill Bradley. One of the nation's leading experts on the subject, Cutler argues in Your Money or Your Life that health care has in fact improved exponentially over the last fifty years, and that the successes of our system suggest ways in which we might improve care, make the system easier to deal with, and extend coverage to all Americans. Cutler applies an economic analysis to show that our spending on medicine is well worth it - and that we could do even better by spending more. Further, millions of people with easily manageable diseases, from hypertension to depression to diabetes, receive either too much or too little care because of inefficiencies in the way we reimburse care, resulting in poor health and in some cases premature death."--Résumé de l'éditeur
The changing hospital industry : comparing not-for-profit and for-profit institutions
by
David M Cutler
( )
22 editions published between
1999
and 2007 in
English
and
Undetermined
and held by 1,937 WorldCat member libraries worldwide
"What determines a hospital's choice of for-profit or not-for-profit organizational form? And how does that form affect patients and society?" "This volume answers these questions through empirical research, providing a factual basis for discussing for-profit versus not-for-profit ownership of hospitals. Through the use of case studies and other empirical work, this collection provides a first look at the evidence about some new and important issues in the hospital industry." "This collection will have significant implications for public-policy reforms in this vital industry. The Changing Hospital Industry: Comparing Not-for-Profit and For-Profit Institutions will be of great interest to scholars in the fields of health economics, public finance, hospital organization, and management, and to health services researchers."--BOOK JACKET
Medical care output and productivity
( )
15 editions published in
2001
in
English
and held by 1,880 WorldCat member libraries worldwide
Annotation With the United States and other developed nations spending as much as 14 percent of their GDP on medical care, economists and policy analysts are asking what these countries are getting in return. Yet it remains frustrating and difficult to measure the productivity of the medical care service industries. This volume takes aim at that problem, while taking stock of where we are in our attempts to solve it. Much of this analysis focuses on the capacity to measure the value of technological change and other health care innovations. A key finding suggests that growth in health care spending has coincided with an increase in products and services that together reduce mortality rates and promote additional health gains. Concerns over the apparent increase in unit prices of medical care may thus understate positive impacts on consumer welfare. When appropriately adjusted for such quality improvements, health care prices may actually have fallen. Provocative and compelling, this volume not only clarifies one of the more nebulous issues in health care analysis, but in so doing addresses an area of pressing public policy concern
Health at older ages : the causes and consequences of declining disability among the elderly
( )
19 editions published between
2008
and 2009 in
English
and held by 1,760 WorldCat member libraries worldwide
"Americans are living longer-and staying healthier longer than ever before, despite the rapid disappearance of traditional pensions and health care benefits for retirees. In Health at Older Ages, a distinguished team of economists analyzesthe foundations of disability decline, quantifiesthis phenomenon in economicterms, and proposes what might be done to accelerate future improvements in the health of our most elderly populations." "This breakthrough volume argues that educational attainment, high socioeconomic status, an older retirement age, and accessible medical care have improved the health and quality of life of seniors. Along the way, it outlines the economic benefits of disability decline, such as an increased rate of seniors in the workplace, relief for the healthcare system and caregiving families, and reduced medical expenses for the elderly themselves. Health at Older Ages will be an essential contribution to the debate about meeting the medical needs of an aging nation."--Jacket
The quality cure : how focusing on health care quality can save your life and lower spending too
by
David M Cutler
( )
14 editions published in
2014
in
English
and held by 1,410 WorldCat member libraries worldwide
In the United States, the soaring cost of health care has become an economic drag and a political flashpoint. Moreover, although the country's medical spending is higher than that of any other nation, health outcomes are no better than elsewhere, and in some cases are even worse. In The Quality Cure, renowned health care economist and former Obama advisor David Cutler offers an accessible and incisive account of the issues and their causes, as well as a road map for the future of health care reform-one that shows how information technology, realigned payment systems, and value-focused o
Frontiers in health policy research
by
David M Cutler
( )
13 editions published between
2003
and 2005 in
English
and
Undetermined
and held by 1,352 WorldCat member libraries worldwide
Annotation
Frontiers in health policy research
by
David M Cutler
( )
7 editions published in
2003
in
English
and
Undetermined
and held by 1,193 WorldCat member libraries worldwide
This important series presents timely economic research on health care and health policy issues. Each volume contains papers from an annual conference of researchers, government officials, and policy experts held in Washington, D.C. Topics include the effects of health policy reforms, changes in health care organization and management, measurement of health outcomes, health care output and productivity, the role of health-related behavior, health and aging, health and children, and health care financing
Measuring and modeling health care costs
( Book )
6 editions published between
2018
and 2019 in
English
and held by 242 WorldCat member libraries worldwide
Health care costs represent nearly 18 percent of US gross domestic product and 20 percent of government spending. While there is detailed information on where these health care dollars are spent, there is much less evidence on how this spending affects health. The research in this volume seeks to connect out knowledge of expenditures with measurable results, probing questions of methodology, changes in the pharmaceutical industry, and the shifting landscape of physician practice. the research in this volume investigates ,for example, obesity's effect on health care spending, the effect of generic pharmaceutical releases, and the disparity between disease-based and population-based spending measures. This vast and varied volume applies a range of economic tools to the analysis of health care and health outcomes
Demographics and medical care spending : standard and non-standard effects
by
David M Cutler
( Book )
23 editions published between
1998
and 1999 in
English
and held by 161 WorldCat member libraries worldwide
Abstract: In this paper, we examine the effects of likely demographic changes on medical spending for the elderly. Standard forecasts highlight the potential for greater life expectancy to increase costs: medical costs generally increase with age, and greater life expectancy means that more of the elderly will be in the older age groups. Two factors work in the other direction, however. First, increases in life expectancy mean that a smaller share of the elderly will be in the last year of life, when medical costs generally are very high. Furthermore, more of the elderly will be dying at older ages, and end-of-life costs typically decline with age at death. Second, disability rates among the surviving population have been declining in recent years by 0.5 to 1.5 percent annually. Reductions in disability, if sustained, will also reduce medical spending. Thus, changes in disability and mortality should, on net, reduce average medical spending on the elderly. However, these effects are not as large as the projected increase in medical spending stemming from increases in overall medical costs. Technological change in medicine at anywhere near its historic rate would still result in a substantial public sector burden for medical costs
Restraining the leviathan : property tax limitation in Massachusetts
by
David M Cutler
( Book )
20 editions published between
1996
and 1997 in
English
and held by 148 WorldCat member libraries worldwide
Proposition 2.5, a ballot initiative approved by Massachusetts voters in 1980 sharply reduced local property taxes and restricted their future growth. We examine the effects of Proposition 2.5 on municipal finances and assess voter satisfaction with these effects. We find that Proposition 2.5 had a smaller impact on local revenues and spending than expected; amendments to the law and a strong economy combined to boost both property tax revenue and state aid above forecasted amounts. Proposition 2.5 did reduce local revenues substantially during the recession of the early 1990s. There were two reasons for voter discontent with the pre-Proposition 2.5 financing system: agency losses from inability to monitor government were perceived to be high, and individuals viewed government as inefficient because their own tax burden was high. Through override votes, voters approved substantial amounts of taxes above the limits imposed by the Proposition
more
fewer
Audience Level
0

1
Kids
General
Special
Audience level: 0.13 (from 0.01 for Frontiers ... to 0.69 for Restrainin ...)
Related Identities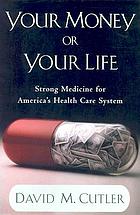 Covers
Alternative Names
Cutler, D.

Cutler, D. 1965-

Cutler, D. M. 1965-

Cutler, David

Cutler, David 1965-

Cutler, David M.

Cutler, David Matthew‏

Cutler, David Matthew 1965-

David Cutler American economist

David Cutler Amerikaans econoom

David Cutler amerikansk ekonom

David Cutler amerikansk økonom

David Cutler eacnamaí Meiriceánach

David Cutler economista estadounidense

David Cutler economista estatunidenc

David Cutler économiste américain

David Cutler ekonomist amerikan

David Cutler US-amerikanischer Wirtschaftswissenschaftler

ديفيد كاتلر عالم اقتصاد أمريكي

大衛·卡特勒 研究者

Languages