Lynch, Nancy A. (Nancy Ann) 1948-
Most widely held works about Nancy A Lynch
Most widely held works by Nancy A Lynch
Distributed algorithms
by
Nancy A Lynch
( )
36 editions published between
1996
and 2010 in
English
and
Undetermined
and held by 1,087 WorldCat member libraries worldwide
The presentation is completely rigorous, yet is intuitive enough for immediate comprehension. This book familiarizes readers with important problems, algorithms, and impossibility results in the area: readers can then recognize the problems when they arise in practice, apply the algorithms to solve them, and use the impossibility results to determine whether problems are unsolvable
Distributed computing 24th international symposium ; proceedings
by
Nancy A Lynch
( )
17 editions published in
2010
in
English
and
German
and held by 519 WorldCat member libraries worldwide
DISC, the International Symposium on DIStributed Computing, is an inter- tional forum on the theory, design, analysis, implementation and application of distributed systems and networks. DISC is organized in cooperation with the European Association for Theoretical Computer Science (EATCS). This volume contains the papers presented at DISC 2010, the 24th Inter- tional Symposium on Distributed Computing, held on September 13-15,2010 in Cambridge, Massachusetts. The volume also includes the citation for the 2010 Edsger W. Dijkstra Prize in Distributed Computing, jointly sponsored by DISC and PODC (the ACM Symposium on Principles of Distributed Computing), which was presented at PODC 2010 in Zurich to Tushar D. Chandra, Vassos Hadzilacos, and Sam Toueg for their work on failure detectors. Therewere135paperssubmittedtothesymposium(inadditiontherewere14 abstract-only submissions). The Program Committee selected 32 contributions out of the 135 full-paper submissions for regular presentations at the sym- sium. Each presentation is accompanied by a?fteen-page paper in this volume. Everysubmitted paper was read and evaluated by at least three members of the ProgramCommittee. The committee was assisted by more than 120 external - viewers. The Program Committee made its?nal decisions during the electronic meeting held on June 18-29, 2010. Revised and expanded versions of several selected papers will be consideredfor publication in a special issue of the journal Distributed Computing. TheprogramalsoincludedthreeinvitedlecturesbyRachidGuerraoui(EPFL, Switzerland), Barbara Liskov (MIT, USA), and Nitin Vaidya (University of Il- nois, USA)
Hybrid systems : computation and control : Third International Workshop, HSCC 2000, Pittsburgh, PA, USA, March 23-25, 2000 : proceedings
by
Nancy A Lynch
( )
28 editions published between
2000
and 2002 in
English
and held by 477 WorldCat member libraries worldwide
This book constitutes the refereed proceedings of the Third International Workshop on Hybrid Systems: Computation and Control, HSCC 2000, held in Pittsburgh, PA, USA in March 2000. The 32 revised full papers presented together with abstracts of four invited talks were carefully reviewed and selected from a total of 71 papers submitted. The focus of the works presented is on modeling, control, synthesis, design and verification of hybrid systems. Among the application areas covered are control of electromechanical systems, air traffic control, control of automated freeways, and chemical process control
Atomic transactions
by
Nancy A Lynch
( Book )
9 editions published in
1994
in
English
and held by 203 WorldCat member libraries worldwide
The theory of timed I/O automata
by
Dilsun K Kaynar
( Book )
3 editions published between
2006
and 2010 in
English
and held by 35 WorldCat member libraries worldwide
This monograph presents the Timed Input/Output Automaton (TIOA) modeling framework, a basic mathematical framework to support description and analysis of timed (computing) systems. Timed systems are systems in which desirable correctness or performance properties of the system depend on the timing of events, not just on the order of their occurrence. Timed systems are employed in a wide range of domains including communications, embedded systems, real-time operating systems, and automated control. Many applications involving timed systems have strong safety, reliability, and predictability req
Relativization of the theory of computational complexity
by
Nancy A Lynch
( Book )
11 editions published in
1972
in
English
and
Undetermined
and held by 19 WorldCat member libraries worldwide
Blum's machine-independent treatment of the complexity of partial recursive functions is extended to relative algorithms (as represented by Turing machines with oracles). The author proves relativeizations of several results of Blum complexity theory. A recursive relatedness theorem is proved, showing that any two relative complexity measures are related by a fixed recursive function. This theorem allows one to obtain proofs of results for all measures from proofs for a particular measure. The author studies complexity-determined reducibilities, the parallel notion to complexity classes for the relativized case. Truth-table and primitive recursive reducibilities are reducibilities of this type. The concept of a set helping the computation of a function is formalized. Basic properties of the helping relation are proved, including non-transitivity and bounds on the amount of help certain sets can provide. (Author)
Using mappings to prove timing properties
by
Nancy A Lynch
( Book )
10 editions published between
1989
and 1992 in
English
and held by 19 WorldCat member libraries worldwide
A new technique for proving timing properties for timing-based algorithms is described; it is an extension of the mapping techniques previously used in proofs of safety properties for asynchronous concurrent systems. The key to the method is a way of representing timing information. Timing assumptions and timing requirements for the system are both represented in this way. A multivalued mapping from the assumptions automation to the requirements automation is then used to show that the given system satisfies the requirements. The technique is illustrated with two simple examples, a resource manager and a signal relay. Keywords: Formal specification; Formal verification; Assertional reasoning, Possibilities mappings; Timed automata; I/O automata. (kr)
Hybrid I/O automata
by
Nancy A Lynch
( Book )
8 editions published between
1995
and 2002 in
English
and
Undetermined
and held by 15 WorldCat member libraries worldwide
Abstract: "We propose a new hybrid I/O automaton model that is capable of describing both continuous and dicrete behavior. The model, which extends the timed I/O automaton model of [12, 7] and the phase transition system models of [15, 2], allows communication among components using both shared variables and shared actions. The main contributions of this paper are: (1) the definition of hybrid I/O automata and of an implementation relation based on hybrid traces, (2) the definition of a simulation between hybrid I/O automata and a proof that existence of a simulation implies the implementation relation, (3) a definition of composition of hybrid I/O automata and a proof that it respects the implementation relation, and (4) a definition of receptiveness for hybrid I/O automata and a proof that, assuming certain compatibility conditions, receptiveness is preserved by composition."
Time bounds for real-time process control in the presence of timing uncertainty
by
Hagit Attiya
( Book )
7 editions published between
1989
and 1991 in
English
and held by 14 WorldCat member libraries worldwide
Abstract: "A timing-based variant of the mutual exclusion problem is considered. In this variant, only an upper-bound, m, on the time it takes to release the resource is known, and no explicit signal is sent when the resource is released; furthermore, the only mechanism to measure real time is an inaccurate clock, whose tick intervals take time between two constants, c₁ [<or =] c₂. When control is centralized it is proved that [formula] is an exact bound on the worst case response time for any such algorithm, where n is the number of contenders for the resource and l is an upper bound on process step time. On the other hand, when control is distributed among processes connected via communication lines with an upper bound, d, for message delivery time, it is proved that [formula] is an upper bound. A new technique involving shifting and shrinking executions is combined with a careful analysis of the best allocation policy to prove a corresponding lower bound of [formula]. These combinatorial results shed some light on modeling and verification issues related to real-time systems."
more
fewer
Audience Level
0

1
Kids
General
Special
Audience level: 0.46 (from 0.23 for Distribute ... to 0.95 for Applicatio ...)
Related Identities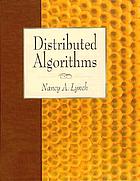 Covers
Alternative Names
Lynch, N. 1948-

Lynch, N. A. 1948-

Lynch, Nancy.

Lynch, Nancy 1948-

Lynch, Nancy A.

Lynch, Nancy Ann 1948-

Nancy Lynch Amerikaans informatica

Nancy Lynch amerikansk informatikar

Nancy Lynch amerikansk informatiker

Nancy Lynch chercheuse américaine

Nancy Lynch científica y profesora estadounidense

Nancy Lynch informatica statunitense

Nancy Lynch ríomheolaí Meiriceánach

Nancy Lynch US-amerikanische Informatikerin

Nancy Lynchová

Ненсі Лінч

Нэнси Линч американский учёный

ננסי לינץ'

نانسى لينش

نانسي لينش

نانسی لینچ دانشمند علوم کامپیوتر آمریکایی

நான்சி லின்ச்

ナンシー・リンチ

南希·林奇

Languages