Forster, Michael N.
Most widely held works by Michael N Forster
Kant and skepticism
by
Michael N Forster
( )
22 editions published between
2008
and 2011 in
English
and held by 2,396 WorldCat member libraries worldwide
This book puts forward a reappraisal of Immanuel Kant's conception of and response to skepticism, as set forth principally in the Critique of Pure Reason. It is widely recognized that Kant's theoretical philosophy aims to answer skepticism and reform metaphysics--Michael Forster makes the argument that those aims are closely linked. He distinguishes among three types of skepticism: "veil of perception" skepticism, which concerns the external world; Humean skepticism, which concerns the existence of a priori concepts and synthetic a priori knowledge; and Pyrrhonian skepticism, which concerns the equal balance of opposing arguments. Forster overturns conventional views by showing how the first of these types was of little importance for Kant, but how the second and third held very special importance for him, namely because of their bearing on the fate of metaphysics. He argues that Kant undertook his reform of metaphysics primarily in order to render it defensible against these types of skepticism. Finally, in a critical appraisal of Kant's project, Forster argues that, despite its strengths, it ultimately fails, for reasons that carry interesting broader philosophical lessons. These reasons include inadequate self-reflection and an underestimation of the resources of Pyrrhonian skepticism. --From publisher's description
Wittgenstein on the arbitrariness of grammar
by
Michael N Forster
( )
32 editions published between
2004
and 2009 in
English
and held by 2,139 WorldCat member libraries worldwide
"What is the nature of a conceptual scheme? Are there alternative conceptual schemes? If so, are some more justifiable or correct than others? The later Wittgenstein already addresses these fundamental philosophical questions under the general rubric of "grammar" and the question of its "arbitrariness"--And does so with great subtlety. This book explores Wittgenstein's views on these questions."--Jacket
Philosophical writings
by
Johann Gottfried Herder
( )
20 editions published between
2002
and 2010 in
English
and held by 2,011 WorldCat member libraries worldwide
Johann Gottfried von Herder (1744-1803) is one of the most important German philosophers of the eighteenth century, who had enormous influence on later thinkers such as Hegel, Schleiermacher, and Nietzsche. His wide-ranging ideas were formative in the development of linguistics, hermeneutics, anthropology, and bible scholarship, and even today they retain their vitality and relevance to an extraordinary degree. This volume presents a new translation by Michael Forster of Herder's most important and characteristic philosophical writings (some of which have never before been translated) in his areas of central interest, including philosophy of language, philosophy of mind, philosophy of history, and political philosophy, as well as his general philosophical program. An introduction sets the writings in their historical context and examines their philosophical achievement
After Herder : philosophy of language in the German tradition
by
Michael N Forster
( )
21 editions published between
2010
and 2012 in
English
and held by 1,757 WorldCat member libraries worldwide
"Philosophy of language has for some time now been the very core of the discipline of philosophy. But where did it begin? Frege has sometimes been identified as its father, but in fact its origins lie much further back, in a tradition that arose in eighteenth-century Germany. Michael Forster explores that tradition. He also makes a case that the most important thinker within that tradition was J.G. Herder. It was Herder who established such fundamental principles in the philosophy of language as that thought essentially depends on language and that meaning consists in the usage of words. It was he who on that basis revolutionized the theory of interpretation (h̀ermeneutics') and the theory of translation. And it was he who played the pivotal role in founding such whole new disciplines concerned with language as anthropology and linguistics. In the course of developing these historical points, this book also shows that Herder and his tradition are in many ways superior to dominant trends in more recent philosophy of language: deeper in their principles and broader in their focus."--Jacket
Hegel and skepticism
by
Michael N Forster
( Book )
20 editions published between
1987
and 2014 in
English
and
German
and held by 677 WorldCat member libraries worldwide
The rejection by Anglo-Saxon philosophers of much "continental philosophy" (from Hegel on down) is largely based on the perceived failure of continental thinkers to grapple with the tough questions of epistemology in general and skepticism in particular. Forster demonstrates that Hegel did not in fact ignore epistemology, but on the contrary he fought a tireless and subtle campaign to defeat the threat of skepticism. Forster's work should dispel once and for all the view that Hegel was naive or careless in epistemological matters. Forster begins by discussing Hegel's critical interpretation of the skeptical tradition, in particular his convincingly argued case for the superiority of ancient over modern skepticism. He goes on to show that the difficulties characteristic of ancient skepticism play a crucial and fascinating role in Hegel's philosophy of history. Hegel sees in the emergence of these difficulties an explanation of why the harmonious unified Greek culture collapsed and was replaced by the division and alienation characteristic of subsequent western culture. Finally, Forster examines the elaborate and ingenious system of defenses erected by Hegel to protect his philosophical thought against skeptical difficulties, as the core of a somewhat broader epistemological project. Along the way, Forster makes much that has hither to remained obscure in Hegel's texts intelligible for the first time. This book should cause a re-evaluation of Hegel, and German Idealism generally, and contribute to a re-evaluation of the skeptical tradition in philosophy
Hegel's idea of a Phenomenology of spirit
by
Michael N Forster
( Book )
8 editions published in
1998
in
English
and held by 428 WorldCat member libraries worldwide
In Hegel's Idea of a Phenomenology of Spirit, Michael N. Forster advances an original reading of the work. His approach differs from that of previous scholars in two main ways: he reads the work, first, as a whole - not piecemeal, as it has usually been analyzed - and second, within the context of Hegel's broader corpus and the thought of other philosophers. Forster's reading reveals the Phenomenology of Spirit as in fact an impressively coherent text containing a rich array of ideas of extraordinary philosophical originality and depth. These ideas include a diagnosis of the ills of modernity in terms of its entanglement in a series of dualisms, and a project for overcoming them; a sweeping naturalism; a deep rethinking of and response to problems of skepticism; subtle arguments for social theories of meaning and truth; and a family of ideas based on the insight that human thought changes in fundamental ways over the course of history
German philosophy of language : from Schlegel to Hegel and beyond
by
Michael N Forster
( Book )
19 editions published between
2011
and 2015 in
English
and held by 407 WorldCat member libraries worldwide
Michael Forster presents a study of German philosophy of language in the 19th century, and its continuing significance. This book explores the lasting impact of J.G. Herder's work in the tradition, and traces his legacy in the philosophy of Friedrich Schlegel, Wilhelm von Humboldt, and G.W.F. Hegel
The Cambridge companion to hermeneutics
( Book )
15 editions published between
2018
and 2019 in
English
and held by 311 WorldCat member libraries worldwide
Hermeneutics, the study of interpretation, is an essential and valuable branch of philosophy. Hermeneutics is also a central component of the methodology of the social sciences and the humanities, for example historiography, anthropology, art history, and literary criticism. In a sequence of accessible chapters, contributors across the human sciences explain the leading concepts and ideas of hermeneutics, the historical development of the field, the importance of hermeneutics in philosophy today, and the ways in which it can address contemporary concerns including intercultural relations, relations between subcultures within a single society, and relations across race and gender. Clearly structured and written in non-technical language, this Companion will be an important contribution to a growing field of study.--From publisher's description
The Oxford handbook of German philosophy in the nineteenth century
by
Michael N Forster
( Book )
12 editions published between
2015
and 2017 in
English
and held by 302 WorldCat member libraries worldwide
This volume is divided into four parts. The first Part explores individual philosophers, including Fichte, Hegel, Kierkegaard, and Nietzsche, amongst other great thinkers of the period. The second addresses key philosophical movements: Idealism, Romanticism, Neo-Kantianism, and Existentialism. The essays in the third Part engage with different areas of philosophy that received particular attention at this time, including philosophy of nature and of science, philosophy of mind and language, the philosophy of education, and the relationship between philosophy and science, or Wissenschaft (a German term that is famously less narrowly restricted to natural science and disciplines modeled on it than its English counterpart). Finally, the contributors turn to discuss central philosophical topics, from skepticism to materialism, from dialectics to ideas of historical and cultural Otherness, and from the reception of antiquity to atheism
Herder's philosophy
by
Michael N Forster
( )
8 editions published in
2018
in
English
and held by 289 WorldCat member libraries worldwide
"Johann Gottfried Herder (1744-1803) is a towering figure in modern thought, but one who has hitherto been severely underappreciated. Michael Forster seeks to rectify that situation He considers Herder's philosophy in the round and argues that it is both far more impressive in quality and far more influential in modern thought than has previously been realized. After an introduction on Herder's intellectual biography, philosophical style, and general program in philosophy, there are chapters on his philosophy of language, his hermeneutics, his theory of translation, his contribution of the philosophical foundations for both linguistics and cultural anthropology, his philosophy of mind, his aesthetics, his moral philosophy, his philosophy of history, his political philosophy, his philosophy of religion, and his intellectual influence. Forster argues that Herder contributed vitally important ideas in all of these areas; that in many of them his ideas were seminal for major subsequent philosophers, including Friedrich Schlegel, Schleiermacher, Wilhelm von Humboldt, Hegel, and Nietzsche; that they indeed founded whole new disciplines, such as linguistics, anthropology, and comparative literature; and that moreover they were in many cases even better than what these subsequent thinkers and disciplines went on to make of them."--
more
fewer
Audience Level
0

1
Kids
General
Special
Audience level: 0.19 (from 0.03 for After Herd ... to 0.94 for Die Aktual ...)
Related Identities
Associated Subjects
Academic freedom
Aesthetics
Education--Philosophy
German language
German literature
Germany
Germany--Jena
Grammar, Comparative and general
Hegel, Georg Wilhelm Friedrich,
Herder, Johann Gottfried,
Hermeneutics
Hume, David,
Idealism, German
Intellectual life
Kant, Immanuel,
Language and languages
Language and languages--Philosophy
Literature
Phänomenologie des Geistes (Hegel, Georg Wilhelm Friedrich)
Philosophy
Philosophy, German
Poetry
Romanticism
Skepticism
Wittgenstein, Ludwig,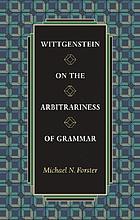 Covers
Alternative Names
Forster, Michael

Forster Michael 1957-....

Forster, Michael N.

Forster, Michael Neil.

Forster, Michael Neil 1957-

Michael Neil Forster filósofo estadounidense

Michael Neil Forster filosoof

Michael Neil Forster sacerdote tedesco

Michael Neil Forster US-amerikanischer Philosoph

Languages