Jón Viðar Sigurðsson 1958-
Most widely held works by Jón Viðar Sigurðsson
Celtic-Norse relationships in the Irish Sea in the Middle Ages : 800-1200
by
Jón Viðar Sigurðsson
( )
22 editions published between
2013
and 2014 in
English
and held by 718 WorldCat member libraries worldwide
This volume contains the proceedings of a conference held in Oslo in late 2005, which brought together scholars working in a wide variety of disciplines from Scandinavia, Great Britain and Ireland. The papers here began as those read at the conference, augmented by two written immediately after by attendees, but have been updated in light of the discussions in Oslo and more recent scholarship. They offer historical, archaeological, art-historical, religious-historical and philological views of the interaction and interdependence of Celtic and Norse populations in the Irish Sea region in the period 800 A.D.-1200 A.D. Contributors are Ian Beuermann, Barbara Crawford, Claire Downham, Fiona Edmonds, Colmán Etchingham, Zanette T. Glørstad, John Hines, Alan Lane, Julie Lund, Jan Erik Rekdal and David Wyatt
Sturla Þórðarson : skald, chieftain, and lawman
by
Sverrir Jakobsson
( )
13 editions published in
2017
in
English
and
Undetermined
and held by 718 WorldCat member libraries worldwide
"Sturla Þórðarson is one of only a handful of thirteenth-century Icelandic historians to be known by name, and he is certainly one of the most significant. A number of works may be traced directly to his literary-cultural circle, notably Landnámabók (The Book of Settlements), Íslendinga saga (The saga of Icelanders) and Hákonar saga Hákonarsonar (The Saga of King Hákon). Moreover, it is thought that Sturla was involved in the production of the legal text known as Járnsíða, as well as annals and, possibly, some of the Íslendingasögur (Sagas of Icelanders). In addition to his role as author and compiler, Sturla Þórðarson was in his day one of the most powerful men in Iceland. In 1262, he visited the court of King Magnús Hákonarson ('the Law-mender') in Norway as a court poet, later becoming his liegeman, and it was for King Magnús that Sturla wrote the sagas of King Hákon and King Magnús. Sturla served as lawman of all Iceland 1272-77, and then as lawman for the north and west of the country until 1282. He died on 30 July 1284. Contributors are Ann-Marie Long, Ármann Jakobsson, Auður Magnúsdóttir, Gísli Sigurðsson, Guðrún Ása Grímsdóttir, Guðrún Nordal, Gunnar Harðarson, Hans Jacob Orning, Helgi Þorláksson, Jón Viðar Sigurðsson, Lena Rohrbach, Patricia Pires Boulhosa, Philadelphia Ricketts, R.I. Moore, Randi Bjørshol Wærdahl, Roberta Frank, Sveinbjörn Rafnsson, Sverrir Jakobsson, Theodore M. Andersson, Úlfar Bragason, and Verena Hoefig"--Provided by publisher
Negotiating pasts in the Nordic countries : interdisciplinary studies in history and memory
by
Jón Viðar Sigurðsson
( )
16 editions published between
2009
and 2015 in
English
and held by 515 WorldCat member libraries worldwide
The authors present a number of case studies, from the Middle Age to present time, about how the past has been made meaningful and relevant to people living in later periods. It is the process of selecting, interpreting and passing on meaning that we call negotiating the past. This process is loaded with tension in part stemming from the past itself, but which is often due to the various agents involved in the process as they represent different interests, understandings and points of view. At the same time, the process is marked by a wish to come to terms with unknown conditions, to develop some consensus, again not only with the past, but also with one's contemporaries. These dynamic and dialogical processes do not only concern the past as in 'history', but rather a number of pasts, which are sometimes in conflict, but at other times harmoniously complement each other. The book should be viewed as a contribution to the international and interdisciplinary field of collective memory, which has grown large over the last decades. Today, studies of commemorations and festivals, monuments, exhibitions and museums, historical films and narratives are numerous, and terms such as social memory, collective or collected memory, lieux de memoire all demonstrate the scholarly interest in how the past - or images of it - is constructed, composed and built up, but also demolished, dismantled and rejected. To learn more about the processes when dealing with the past is an important key to understanding why and how societies and communities change and evolve. The authors are Norwegian, Danish and Swedish scholars who have collaborated in a network on the subject between 2007 and 2009. They are employed at universities and university libraries throughout Scandinavia
Viking friendship : the social bond in Iceland and Norway, c. 900-1300
by
Jón Viðar Sigurðsson
( )
14 editions published in
2017
in
English
and held by 513 WorldCat member libraries worldwide
"Friendship was the most important social bond in Iceland and Norway during the Viking Age and the early Middle Ages. Far more significantly than kinship ties, it defined relations between chieftains, and between chieftains and householders. In Viking Friendship, Jon Vidar Sigurdsson explores the various ways in which friendship tied Icelandic and Norwegian societies together, its role in power struggles and ending conflicts, and how it shaped religious beliefs and practices both before and after the introduction of Christianity. Drawing on a wide range of Icelandic sagas and other sources, Sigurdsson details how loyalties between friends were established and maintained. The key elements of Viking friendship, he shows, were protection and generosity, which was most often expressed through gift giving and feasting. In a society without institutions that could guarantee support and security, these were crucial means of structuring mutual assistance. As a political force, friendship was essential in the decentralized Free State period in Iceland's history (from its settlement about 800 until it came under Norwegian control in the years 1262-1264) as local chieftains vied for power and peace. In Norway, where authority was more centralized, kings attempted to use friendship to secure the loyalty of their subjects. The strong reciprocal demands of Viking friendship also informed the relationship that individuals had both with the Old Norse gods and, after 1000, with Christianity's God and saints. Addressing such other aspects as the possibility of friendship between women and the relationship between friendship and kinship, Sigurdsson concludes by tracing the decline of friendship as the fundamental social bond in Iceland as a consequence of Norwegian rule."--Provided by publisher
Nordic elites in transformation, c. 1050-1250
by
Bjørn Poulsen
( )
11 editions published in
2019
in
English
and held by 118 WorldCat member libraries worldwide
This book, first in a series of three, examines the social elites in Denmark, Sweden, Norway, and Iceland, and which social, political, and cultural resources went into their creation. The elite controlled enormous economic resources and exercised power over people. Power over agrarian production was essential to the elites during this period, although mobile capital was becoming increasingly important. The book focuses on the material resources of the elites, through questions such as: Which types of resources were at play? How did the elites acquire and exchange resources?
Friendship and social networks in Scandinavia c.1000-1800
by
Jón Viðar Sigurðsson
( Book )
9 editions published between
2012
and 2013 in
English
and held by 90 WorldCat member libraries worldwide
"This book discusses the impact of various social networks on Scandinavian society from a longue durée perspective, from the Viking Age to the nineteenth century. Friendship, patron-client relationships, and social networks played a fundamental role in Scandinavian society from the Viking Age through to the Industrial Era. Personal ties were essential to Viking chieftains for building their power base, and such ties were equally crucial for early modern merchants, who used their personal bonds to create trade networks. Furthermore, social networks connected medieval men and women to the saints and to God. The articles in this book emphasize the strong correlation between political developments such as the emergence of the state and the evolution of friendships and social networks. They also highlight radical changes in the importance and contexts of friendship that occurred between the Viking Age and the late eighteenth century. During this period, friendships became far more than community-based social relationships, but rather tools for the elite in social positioning and wealth acquisition. This volume highlights the major significance of friendships and patron-client relationships to political and cultural life in medieval, early modern, and modern society. It covers social networks in Iceland, Norway, Denmark, and Sweden, each of which are characterized by different societal features, ranging from the free-state republic of early medieval Iceland to the early modern kingdom of Denmark."--Publisher's website
Norse-Gaelic contacts in a Viking world : studies in the literature and history of Norway, Iceland, Ireland, and the Isle of Man
by
Colmán Etchingham
( Book )
4 editions published in
2019
in
English
and held by 84 WorldCat member libraries worldwide
This multi-disciplinary volume draws on the combined expertise of specialists in the history and literature of medieval Ireland, Iceland, Norway, and Scotland to shed new light on the interplay of Norse and Gaelic literary traditions. Through four detailed case-studies, which examine the Norwegian 'Konungs skuggsjá', the Icelandic 'Njáls saga' and 'Landnámabók', and the Gaelic text 'Baile Suthach Sith Emhna', the volume explores the linguistic, cultural, and political contacts that existed between Norse and Gaelic speakers in the High Middle Ages, and examines the impetus behind these texts, including oral tradition, transfer of written sources, and authorial adaption and invention. Crucially, these texts are not only examined as literary products of the thirteenth century, but also as repositories of older historical traditions, and the authors seek to explore these wider historical contexts, as well as analyse how and why historical and literary material was transmitted. The volume contains English translations of key extracts and also provides a detailed discussion of sources and methodologies to ensure that this milestone of scholarship is accessible to both students and subject-specialists
Nordic elites in transformation, c. 1050-1250
( )
4 editions published between
2020
and 2021 in
English
and held by 58 WorldCat member libraries worldwide
This book explores the practical and symbolic resources of legitimacy which the elites of medieval Scandinavia employed to establish, justify, and reproduce their social and political standing between the end of the Viking Age and the rise of kingdoms in the thirteenth century. Geographically the chapters cover the Scandinavian realms and Free State Iceland. Thematically the authors cover a wide palette of cultural practices and historical sources: hagiography, historiography, spaces and palaces, literature, and international connections, which rulers, magnates or ecclesiastics used to compete for status and to reserve haloing glory for themselves. The volume is divided in three sections. The first looks at the sacral, legal, and acclamatory means through which privilege was conferred onto kings and ruling families. Section Two explores the spaces such as aristocratic halls, palaces, churches in which the social elevation of elites took place. Section Three explores the traditional and novel means of domestic distinction and international cultural capital which different orders of elites - knights, powerful clerics, ruling families etc. - wrought to assure their dominance and set themselves apart vis--vis their peers and subjects. A concluding chapter discusses how the use of symbolic capital in the North compared to wider European contexts
Det norrøne samfunnet : vikingen, kongen, erkebiskopen og bonden
by
Jón Viðar Sigurðsson
( Book )
9 editions published in
2008
in
Norwegian
and
Norwegian
and held by 32 WorldCat member libraries worldwide
Vikingenes seilas til øyene i vest på 800-tallet utvidet ikke bare deres verden, den skapte en ny. Vikingenes bragd. Den norrøne verden er en fortelling om hva som kjennetegner den norske vikingtiden, og hvordan dette særpreget kom til å forme samfunnsutviklingen på øyene der vikingene bosatte seg: Island, Grønland, Færøyene, Shetland og Orknøyene. I løpet av perioden fram til om lag 1300 gjennomgår den norrøne verden en gradvis overgang fra en maktstruktur bygget rundt lokale høvdinger, til et system der kongemakten og kirken dominerer den politiske scenen. Innflytelsen og endringene kommer fra Norge, som var det selvskrevne midtpunktet, og tilpasses forholdene på Vesterhavsøyene
more
fewer
Audience Level
0

1
Kids
General
Special
Audience level: 0.30 (from 0.03 for Negotiatin ... to 0.93 for Håkon den ...)
Related Identities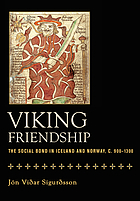 Covers
Alternative Names
Jon Viðar Sigurðsson.

Jon Vidar Sigurdsson 1958-

Jón Viðar Sigurðsson Icelandic professor

Jón Viðar Sigurðsson islandsk historieprofessor

Jón Viðar Sigurðsson Noors professor

Jón Viðar Sigurðsson Norwegian professor

Jón Viðar Sigurðsson norwegischer Professor

Jón Viðar Sigurðsson profesor noruegu

Sigurðsson J. V. 1958-

Sigurđsson, Jón Viđar

Sigurðsson Jón Viðar 1958-....

Viðar Sigurðsson, Jón 1958-

Languages