Mason, Patrick Q.
Most widely held works about Patrick Q Mason
Most widely held works by Patrick Q Mason
The Mormon menace : violence and anti-Mormonism in the postbellum South
by
Patrick Q Mason
( Book )
11 editions published in
2011
in
English
and held by 396 WorldCat member libraries worldwide
Rather than the "quintessential American religion," as it has been dubbed by contemporary scholars, in the late nineteenth century Mormonism was America's most vilified homegrown faith. A vast national campaign featuring politicians, church leaders, social reformers, the press, women's organizations, businessmen, and ordinary citizens sought to end the distinctive Latter-day Saint practice of plural marriage, and to extinguish the entire religion if need be. Placing the movement against polygamy in the context of American and southern history, the author demonstrates that anti-Mormonism was one of the earliest vehicles for reconciliation between North and South after the Civil War and Reconstruction. Southerners joined with northern reformers and Republicans to endorse the use of newly expanded federal power to vanquish the perceived threat to Christian marriage and the American republic. Anti-Mormonism was a significant intellectual, legal, religious, and cultural phenomenon, but in the South it was also violent. While southerners were concerned about distinctive Mormon beliefs and political practices, they were most alarmed at the "invasion" of Mormon missionaries in their communities and the prospect of their wives and daughters falling prey to polygamy. Moving to defend their homes and their honor against this threat, southerners turned to legislation, to religion, and, most dramatically, to vigilante violence
Out of obscurity : Mormonism since 1945
( )
7 editions published in
2016
in
English
and held by 270 WorldCat member libraries worldwide
"Out Of Obscurity" brings the story of Mormonism since the Second World War into sharp relief, explaining the ways in which a church very much rooted in its nineteenth-century prophetic and pioneering past achieved unprecedented influence in the realms of American politics and international business
What is Mormonism? : a student's introduction
by
Patrick Q Mason
( )
8 editions published between
2016
and 2017 in
English
and held by 164 WorldCat member libraries worldwide
This title is an easy-to-read and informative overview of the religion founded by Joseph Smith in 1830. This short and lively book covers Mormonism's history, core beliefs, rituals, and devotional practices, as well as the impact on the daily lives of its followers. The book focuses on the Church of Jesus Christ of Latter-day Saints, the Salt Lake City-based church that is the largest and best-known expression of Mormonism, whilst also exploring lesser known churches that claim descent from Smith's original revelations
Mormonism and violence : the battles of Zion
by
Patrick Q Mason
( )
3 editions published in
2019
in
English
and held by 133 WorldCat member libraries worldwide
In popular culture and scholarship, a consistent trope about Mormonism is that it features a propensity for violence, born of the religion's theocratic impulses and the antinomian tendencies of special revelation. Mormonism and Violence critically assesses the relationship of Mormonism and violence through a close examination of Mormon history and scripture, focusing on the Church of Jesus Christ of Latter-day Saints. The Element pays special attention to violence in the Book of Mormon and the history of the movement, from the 1830s to the present
Maintaining Religious Identity in the Wake of Interfaith Dialogue
by Teresa A Crist
( )
1 edition published in
2014
in
English
and held by 34 WorldCat member libraries worldwide
The confrontation with difference is an especially large challenge when it comes to religion and religious beliefs. Because religion is integral to so many, it becomes a sticking point in negotiations, conversations, and policy development. Even for those without particularly strong religious convictions, religion must be considered in their interactions with those who do. It is precisely that interaction that I seek to further understand. Engaging in dialogue with those of different faiths or value systems brings to the surface myriad difficulties, chief among which is the challenge of simply coming together to begin the conversation. The most appealing approach to that challenge is often to find some sort of common ground on which everyone can agree, a foundation upon which relationships can be built. That common ground, however, can be just as harmful to the end-goal of dialogue as not having dialogue in the first place. Common ground approaches focus on similarities, ignoring or discounting the differences which both make us who we are and make conversations difficult to have. In ignoring differences, participants are forced to relegate salient aspects of their beliefs to a private (unseen) arena, where they may wither away, dulled from disuse, eventually no longer relevant as an identifier. The foremost question I seek to answer, then, is the following: How can religious identity be maintained in light of such approaches to dialogue?
Planted : belief and belonging in an age of doubt
by
Patrick Q Mason
( Book )
3 editions published between
2015
and 2017 in
English
and held by 32 WorldCat member libraries worldwide
For all its advances, our secular age has also weakened ties to religious belief and affiliation, and Latter-day Saints have not been immune. In recent years, many faithful Church members have encountered challenging aspects of Church history, belief, or practice. Feeling isolated, alienated, or misled, some struggle to stay. Some simply leave. Many search for a reliable and faithful place to work through their questions. The abundance of information online can leave them frustrated. Planted offers those who struggle?and those who love them?practical ways to stay planted in the gospel of Jesus Christ
Alexandria in the Shadow of the Hill Cumorah : a Comparative Historical Theology of the Early Christian and Mormon Doctrines of God
by Gordon A Carle
( )
2 editions published in
2015
in
English
and held by 26 WorldCat member libraries worldwide
This work is a comparative study of the theological and historical development of the early Christian (pre-Nicene) and Mormon doctrines of God. For the Christian tradition, I follow a detailed study of the apostolic period, followed by the apologetical period, and then conclude with the pre-Nicene up to around 250 C.E. For the Mormon tradition, I cover the period beginning with the establishment of the Mormon Church in 1830 and conclude with its official doctrinal formulation in 1916. I begin this work with a chronological examination of the development of the Mormon doctrine of God, commencing with Joseph Smith's translation of the Book of Mormon and concluding with his revelations and additional translations of those books that make up the Pearl of Great Price. I then examine Brigham Young's single theological contribution, followed with the speculative contributions of Parley P. Pratt, Orson Pratt, John A. Widtsoe, B.H. Roberts, and concluding with James E. Talmage. This section covers chapters two through four. In chapters five through seven, I examine the theological contributions of Ignatius of Antioch, then Theophilus of Antioch, and conclude my study with the theological contributions of Origen of Alexandria. For the Christian tradition, I trace the development of the pre-Nicene theologians' struggle to explicate the theological and philosophical implications regarding the divinization of Christ within the context of monotheism. At the end of chapters five through seven I include a succinct, comparative study of each father's doctrine with Mormon doctrine. This work will also address the major theological and historical factors that influenced both the Mormon and traditional Christian doctrines of God. Further, I contrast both theological systems and discuss their basic differences and similarities. My conclusion is that the fundamental difference between these two theological systems rests upon their foundational conceptions of reality as absolutist or finitist. The Mormon theological system rests upon a materialistic and monistic conception of reality, whereas traditional Christianity's system rests upon a dualistic conception of reality. In Mormon materialism, the Trinity is divided as individuated Gods; in Christian transcendence, the unity of God may only be maintained, while acknowledging the separate existences of the Persons of the Godhead, if the nature of God is understood as an incorporeal substance
more
fewer
Audience Level
0

1
Kids
General
Special
Audience level: 0.30 (from 0.08 for Planted : ... to 0.91 for Mormonism ...)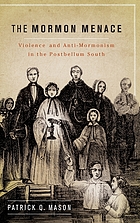 Covers
Alternative Names
Mason, Patrick 1976-

Patrick Q. Mason historian

Languages